Latest News on the Vikram Starrer Thaandavam - Music releasing on 15th August

Are you looking for the details of the movie Thaandavam? Searching for latest movie by Tamil actor vikram? In this article a brief review on the Vikram starer Thaandavam! The music is scheduled to be released today on 15th of August. Get the latest updates including a complaint case regarding the name Thaandavam from S. Vijay


Case Charged against the Title of the Movie Thaandavam

Thaandavam is the upcoming movie scheduled to be released this September all over the country. In this movie Tamil actor Vikram is doing a blind man's role who takes on the villain with just sound and the eco that arises from a person. The movie is directed by famous director Vijay who gave some hits in the past. He is returning again with a good story featuring Vikram in the lead role and three actresses are pairing with Vikram and they are Tamil actress Anushka, Lakshmi Rai and Amy Jackson of Madrasapattinam fame.


Case History on the movie Thaandavam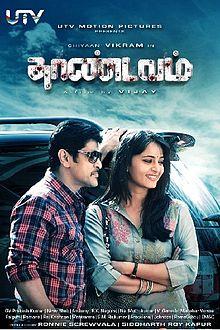 The movie has planned to release the audio on 15th of August and there is a problem that the movie caught very recently and that was the case that was filed on the movie to change its name from "Thaandavam". According to the source it is said that a case was filed on the 16th city court in Chennai and the owner of the star nine Medias S. Vijay stated that he has already registered that name and the production of the movie is going on. He added that the movie has a new comer who is doing the lead in the movie. The movie is supposed to have started in the end of 2010 but due to some financial trouble the movie was stopped for a while and this story of the movie was given by him to the happy Medias.

It seems that the owner has complained about this incident to the producers association in the year 2011 October and it was decided that His movies name would be titled as R Shankar's Thaandavam and the Vikram movie was supposed to be named as Vikramin Thaandavam or Shivathaandavam. They have also reported that about 1.50 crores have been already spend on the movie so far and about 90 percent of the movie has been completed till now.

In this stage the UTV had released the Vikram Starrer with the title named Thaandavam and they feel that this would certainly affect them to a very large extend. They thereby ask the court to stop the movie advertising this name and they have charged a case in the civil court also. The movie has yet to get the result of the case and let's hope everything goes well.


Audio Release Today

In this situation the UTV has planned to release the audio of the vikram in Thandavam and hope the movies song would attract the Tamil audience. The music is composed by the famous Music Director G.V Prakash and there are about 6 songs in the movie and this would be released on 15th of august on the occasion of Independence Day.