Tamilnadu Festival Navaratri Golu Recipe MeduVadas or MilaguVada

Are you searching for Tamilnadu Festival recipes? Do you want to excite your guests with a special recipe on Golu? Read the article and get to know how to prepare traditional fluffy crisper MeduVadas.


Navaratri Golu Recipe Vada

Vada is one of the most important part in both Breakfast and lunch menu of Tamilnadu. It is very tasty and the outer part looks crisper and the inner part is very soft and fluffy. This is offered to the God in all poojas and festivals. Navratri is a nine day festival and this special Vada is prepared and offered to Goddess Durga.


Ingredients for making Tamilnadu Special MeduVada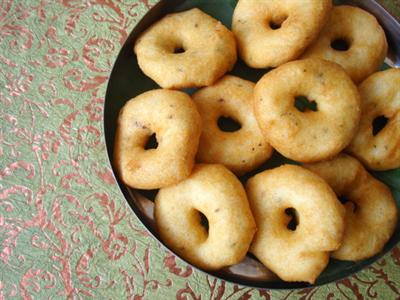 1 cup whole urad dal
10-12 black pepper corns
1/2 tsp cumin seeds
Salt as required
Oil for deep frying

Tamilnadu festival recipes
Tamilnadu special recipes


Method for making Tamilnadu Festival Special MeduVada

1 Soak the urad dal in water for 2 hours.

2 Drain and grind the dal to a smooth batter by just sprinkling water. Prefer the grinder instead of the mixie so that the vada comes softer.

3 Now take the vada batter in a vessel add the salt crushed cumin and peeper corns.

4. Heat oil in a kadai and always keep in a medium flame.

5. Now take a small ball sized batter and flatten it in a polythene cover. You can use milk cover or oil cover or banana leaf. Now make a hole in the centre and just drop in oil.

6 Fry till it becomes golden brown turn and cook the other side.

7 Now drain the oil and keep in a serving plate.

Serve the Vada with chutney and sambar.