Pongal Festival Recipe Sakkarrai Pongal (Sweet Pongal)

Get to know how to make the traditional sakkarrai pongal or sweet pongal in a easy and simple way. Try this and enjoy the pongal festival with your family.


Traditional Method of making Sakkarrai Pongal from my Grandmas Kitchen

Pongal festival or ThaiPongal is one of the most popular festivals of Tamilnadu which is a thanksgiving or Harvest festival celebrated by the South Indian after the end of the harvest. This festival is celebrated by making sakkarai pongal with the newly harvested rice in a pot. They shout "pongalo pongal" when the water boils with the rice. Read the article to know how to make one of the Pongal Pandigai recipe or pongal dish Sakkarai pongal in a simple manner.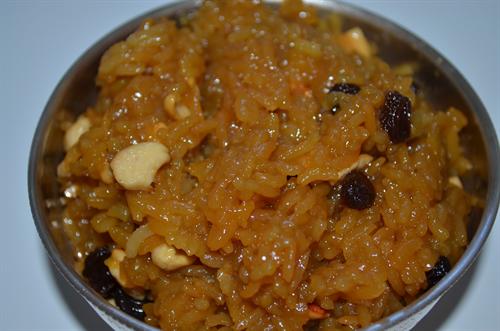 Ingredients to make Sakkarrai Pongal

Raw rice: 1 cup
Moong dal/Paasi paruppu: ¼ cup
Ghee: 8 tbsp
Milk: 1 cup
Cashews: 6-8 nos.
Jaggery: 2 – 2 ½ cups
Elachi: 3 nos.
Pachai karpooram(optional): A pinch
water 3 & 1/4 cups


Method for making Sakkarrai Pongal

1. Wash and soak the rice for half an hour.

2. Add ghee to the cooker and fry the moong dal for a minute.

3. After the moong dal is fried add the soaked rice, water, ½ cup milk and pressure cook in medium flame for 3 whistles.

4. Now open the cooker after the pressure is released then add milk and mix well.

5. Powder the jaggery finely then add little amount of water, boil and filter the impurities, add this syrup to the pongal.

6. Keep this on the stove and stir well in a low-medium flame.

7. Add the ghee to the pongal little by little and stir till pongal leaves the sides of the vessel.

8. In a frying pan add little amount of ghee and fry the cashews, add powdered elachi and pachai karpooram (optional) and pour this to the sweet pongal.

Now the Sakkarai pongal is ready for the pongal festival.