How to make famous Bengali recipe "Sarshe Ilish"

Are you Bengali? If you are a Bengali then you must be a lover of Hilsa fish. It is a famous fish of rain. It is a gift to us from rain. It is very tasty. We can prepare many recipes with it. Now you can know how to prepare Sarshe(mustard) Ilish(Hilsha). It is a famous recipe to all Bengalies. Bengalies wait for monsoon for this tasteful fish. Some call I as KING OF FISH. Let see the preparation of this SARSHE ILISH.


We know the taste of the fish Hilsa. Mostly the bengalies like this fish.it is the famous fiosh of Bangladesh. This fish mostly grows in the Padma river of Bangladesh. But it also grows in Ganges of India.
Now we can know the preparation of SARSHE ILISH from this article.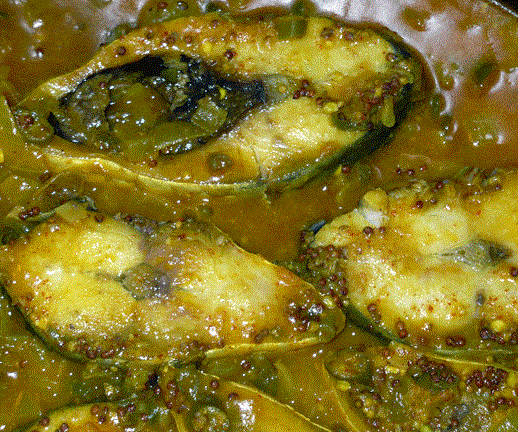 Preparation of Sarshe Ilish
Ingredients


Hilsa fish (quantity-depending on the number of people)
Mustard paste with green chili
Oil
Panch foron (in bengali)
Turmeric powder to marinate the fishes
Water to make gravy
Salt (to taste)
Green chili (total piece)


Steps to prepare


At first Hilsa fishes are cut into many pieces. Then they are marinated with turmeric powder & salt. Then oil is heated on a pan. Hilsa fishes are fried in small quantity of oil. Then they are taken out from the pan. Then oil (mustard oil preferred) is heated on a pan. After that panch foron & mustard paste are added to the pan. Then it needs heat. Then some quantity of water is added to it for making gravy. It is left for some minutes to prepare perfectly. Then the fried fishes are added to that gravy. Then green chilies are added if any one likes it. Then salt is added to taste. Then it has to mix with fishes by the help of spoon. After that it has to cover for preparing on steam for few minutes. Then the cover is removed from the cooking pan. Then a smell of mustard oil is spread. After some time we can taste the delicious Sarshe Ilish.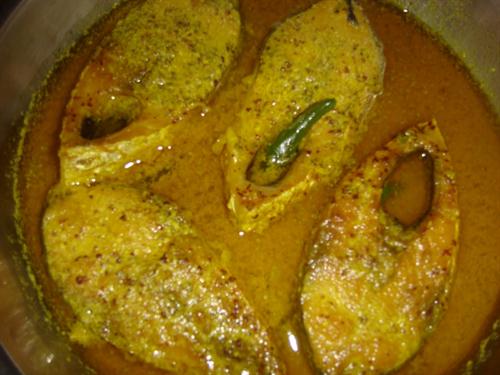 Comment


This preparation is mostly served with rice. It is very popular food to Bengalies. It is the most famous preparation of monsoon. So try it and serve it to the guest. They will be happy to eat this delicious preparation.