Seth Anandram Jaipuria College, Kolkata- a leading college in West Bengal

Searching for Seth Anandram Jaipuria college(SAJC)? Seth Anandram Jaipuria college is a famous leading collecge in Kolkata and as well as in West Bengal. It is well known for its commerce department although the others departments are also very well equipped. Many famous students in different fields were the students of this college. Read this artcle to get all information about Seth Anandram Jaipuria college, Kolkata.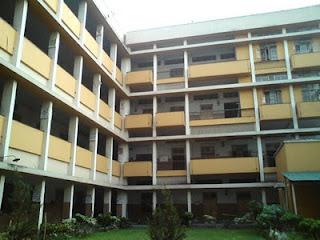 Seth Anandram Jaipuria College was established in 1945 by Seth Mangtaranji Anandram Jaipuria and it was inaurated by Pandit Jawarlal Nehru. The college is housed in the famous Shovabazar Rajbari which is used to belong to the descendants of Maharaja Naba Krishna Deb. Many eminent personalities were involved in India's Nationalist Movement with this college. This is a government-aided college primarily known for its commerce department. The college runs in three sifts- morning, day and evening shifts administered by a single management. The morning shift is only for girls and the evening is for only boys while the day shift classes are co-educational. There are around 5500 students enrolled for the commerce, science and humanities classes taught in this college. There are 15 different subjects in which honours courses are offered to the students apart from six general courses. There are about 180 teachers out of which 50 are permanent and around 100 supporting staff in this college. The college offers students some honours courses simultaneously in more than one shift. Though Jaipuria college is famed for its commerce department, some subjects like computer science, journalism, food and nutrition, psychology now have become popular among the students of this college. Only commerce subjects are taught in evening shift and the college offers two honours subjects- finance and accounting, marketing. There are no post graduate courses yet and the college plans to introduce PG courses in the near future. The students of this college use to secure brilliant results in University examinations. The students also give a good performance in the sports arena at national and international levels.


The college has a persistent problem that is students' politics. There are three different students unions and sometimes they create lot of problems for which the college administration faces serious problem to make it run. In most of the time, some former students do create problem in the college premises. There is also another problem that is lack of space in the college. Students can take admission through online application. By considering the inconvenience to collect admission form by standing in the queue for a long time, the college decided to take admission through online. The tution fees are normal as per government norms though in some special honours courses like Computer Science, the laboratory fees are charged. The college has a well-equipped placement cell that conducts campus interviews regularly. Many of the students got jobs through this campus interview every year. There is an outstanding sports department in the college. The college has a cine club in the journalism department that hold film shows every Saturday.



Some famous students of Seth Anandram Jaipuria college, Kolkata


Jaideep Karmakar, got fourth rank in shooting in London Olympics 2012.

Priyanka Roy, represented India in ICC Women's Cricket World Cup.

Abhisekh Jhunjhunwala and Anustup Majumder, played for Pune Warriors in IPL.

Tapasi Mandal, represeneted India in the World Archery Tournament 2011-12 in Bejjing



Information about Seth Anandram Jaipuria college, Kolkata at a glance


Address and contact Info:

10 Raja Naba Krishna Deb Street,
Calcutta-700005

Phone- (033)25553647

Email- [email protected]


Principal : Mr. Asok Mukherjee

Total no. of Students: 5500

Total no. of Teachers: 180

Website: www.jaipuriacollege.in

Merits:

1. Good commerce department
2. Proactive sports department
3. Vibrant cultural centre

Demerits:

1. Lack of space in the college
2. Interference by students union