Interesting information of the magazine Saradiya bartoman 1419

The most famous festival of Bengali is Durga Puja. In this puja different publishers publish their own magazines. People read these magazines willingly. There are different kind of magazines are sold in the market. Book-lovers are waiting for these special books. Some magazines are made especially for children. In this article we can get information about the popular magazine" SHARADIYA BARTOMAN 1419". Let see the following information –


Now we can see the information of this magazine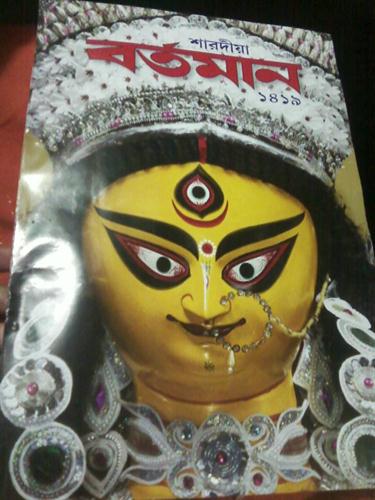 Special essay of magazine Saradiya bartoman 1419

In this segment we can read easy type stories. These ares-
• Aamar Mayer Ancholkhani by Shankar
• SETUBANDHO RAESHWAR by SUMAN GUPTA

• THE LAST INTERVIEW OF SARAT CHANDRA CHOTTOPADHAY by JYOTIPRASAD CHATTOPADHAY
• KOBIR GHOTKALI by PARTHOSARATHI CHATTAPADHAY
• MANUSH GRIHOTYAG KORE KANO? By SHIBSHANKAR BHARATI
• BIPONNO BAJAKATADER DESHE by ABHIJIT LAHIRI
Here, we can read different kind of stories. We can also read the great writer Sarat Chandra Chattapadhay's last interview. Apart from this we can see new writer's writings.


POETRY OF THIS MAGAZINE


There is much poetry in this segment. These ares-
• JUDDHER AYOJON by PRAFULLO ROY
• BHOGOBANER KANE DILEN BHOGOBANER NAAM by SANJIB CHATTAPADHAY
• PANDOB GOENDA by SOSTIPODO CHATTAPADHAY
• BHUBONDANGA by AMAR MITRA
• MON MAJHARE by JAYANTA DEY
In this segment we can read many famous writers' poetry. We know PANDOB GOENDA is especially for the children. Here, we can also read the famous writer Sanjib Chattapadhay's writing. Even Amar Mitra is a good writer. His BHUBONDANGA is based on a social networking site.


MYTHOLOGICAL PART magazine Saradiya bartoman 1419

Here we can read about a story based on mythology called as ABATAR-PANCHAK by Nrisingha Bhaduri.
WRITING ABOUT TRAVEL
We can read 2 travel stories in this segment. These are
• MANAS SARABAR O KOILASH by PRASANTO PRAMANIK
• CHINTE CHINTE CHIN by TAPAN BANDAPADHAY
In this segment there are huge information about famous places viz; Manas Sarabar and Chin.


Political portion OF magazine Saradiya bartoman 1419

The political parts of this magazine are
• ROAD TO RYSINA by SAMRIDDHO DUTTA
• E EK ONNO MAMATA by PRABIR GHOSAL

These are the important things of this magazine. We can read different poems, big stories children's story. This magazine also contains the entertaining news, recipe , the latest fashion of this puja .
The editor of this magazine is SUBHA DUTTA. There are many famous people are involved in this magazine.
So, hope this magazine catches the mind of the book-lovers.