Bengali action film Challenge 2 story, cast, crew information.

Dev & Pooja's new film Challenge 2. In this article you can get all the information about story, cast and crew of Bengali film Challenge 2. This is one of the hit film in Bengali film industry. Read the full article to know more things about this famous tollywood movie Challenge 2.


About Bengali film Challenge 2

Challenge 2 is a 2012 Bengali action film directed by Raja Chanda. Dev and Pooja played lead role in this film. This is not the sequel story line to the 2009 Bengali film Challenge.This is the most expensive movie with a budget of Rs. 14 crore.


Casts of Bengali film Challenge 2

Dev : As ACP Abhiraj Roy a.k.a Abhi.
Pooja Bose : As a fashion designer.
Tapos Paul : As Abhi's father.
Ashis Vidyarthi : As a International mafia don.
Kharaj Mukherjee : As Swarnakamal.
Rajatava Dutta : As Abhi's boss & Pooja's brother.
Laboni Sorkar and many more.


Crew of Bengali film Challenge 2

Director of this film is Raja Chanda.
This film produced by Srikanta Monhta & Shree Venkatesh film.
Music director is Jeet Ganguly.
NK Salil is the script writer of this film.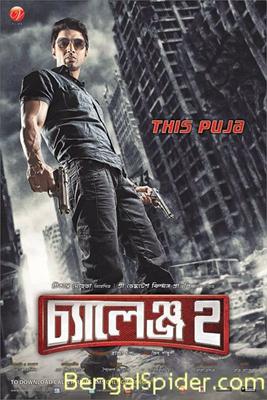 Story and plot of Bengali film Challenge 2

ACP Abhiraj Roy is a daring super-cop in Mumbai. His mission is to apprehend a mafia don (role played by Ashis Vidyarthi). This mafia don involved in illegal drug trade and many crimes sections. Abhi's father (role played by Tapos Paul) is a politician and a social worker. He met with a fate accident. It is later revealed that his father actually survived the accident but ended in a state of coma. Abhi create himself a low profile man to catch the mafia don. In an operation, mafia do not brother (role played by Surojit Sen) hold. Later it is revealed that the other opposition party leader is the main mastermind behind his father's accident.

During Abhi's operation, he meets with a girl (role played by Pooja Bose) and falls in love. The girl is a fashion designer and sister of Abhi's boss (role played by Rajatava Dutta). When Abhi's father comes from coma, doctor advise that he is at risk if he encounters of disturbing or shocking. Abhi's father wants see that his child as a politician revered by people. So Abhi hides all his profession. Abhi shifts his family to his father previously abandoned mansion, which is now being used for film-making.

A false political party is created by Abhi at this mansion. In the help of a reality show, he tricks an aspiring but unsuccessful actor, Swarnakamal (role played by Kharaj Mukherjee). Abhi continue this drama for making his father believes that he is an MLA.
He marries with Pooja, his love for make his father happy. The rest of the plot reveals the politician-criminal nexus behind the accident of Abhi's father.


Soundtrack, music, songs and lyrics of Bengali film Challenge 2

Soundtrack of this flim was scored by Jeet Ganguly & Savvy Gupta. There is four tracks, which are-
(1) 'Challenge nibi na sala' - Singer Suraj Jagan.
(2) 'Police chorer preme poreche' - Singer Abhijeet Bhattchraya & Akriti Kakkar.
(3) 'Elo je maa durga maa' - Singer Abhijeet Bhattchraya & Shreya Ghosal.
(4) 'Pyaar ka bukhar' - Singer Suraj Jagan.