Facilities, booking process, location and phone number details of Kopai Village Resort Santiniketan

Looking for the best lodge/hotel/resort to stay at Santiniketan? Then try the Kopai Village Resort of Santiniketan. Here you will get informations of Kopai Village Resort regarding its facilities, luxury cottages(AC/Non AC) and room charges in Kopai Resort, where is Kopai Resort Santiniketan?, book rooms at Kopai Resort Santiniketan, how to reach Kopai Village Resort Santiniketan Bolpur? and many more!


Kopai Resort Bolpur is a new residential place for those who visits Santiniketan, popular place in the world for Nobel laureate Rabindranath Tagore. Bolpur-Santiniketan, a municipality in Birbhum district of West Bengal state, India is famous for the proximity to Viswa Bharati University set up by Tagore. Santiniketan is a world famous tourist spot in West Bengal state and without doubt we can say that people requires hotels,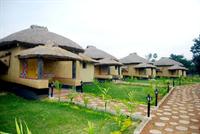 lodges as well as resorts for their stay during the visit to Santiniketan. In this aspect, Kopai resort will welcome you with all necessary facilities. Kopai village resort was established by Saradha Group(Sherwood Hotels and Resorts Pvt Ltd) beside the Kopai river for those who visits Bolpur-Santiniketan. This Kopai river is known to the people of Bengal as the Sal river.


Facilities available at Kopai Village Resort of Santiniketan

If you have ever visited this Kopai Village Resort, I hope you have definitely got an opinion that this resort will make you feel of living in a village. A total of 20 rooms are availabe at Kopai Resort Santiniketan and the interesting fact is that accommodation facilities are available in camping or caravan type. The room charges at Kopai Village Resort is around Rs 2000 or just above per day. Don't worry if you think the amount is large. If you check the facilities, you might be happy to know that this is not a huge amount. The facilities provided by Kopai Resort of Santiniketan includes natural juice bar, pets allowed onside, pick up and rop facility, kids activity area, 24*7 ambulance service, parking space, 24*7 room service and house keeping, AC rooms, OTC medicine facilities, multi cuisine restaurants, refrigerators in every rooms and common amenities.



How to reach Kopai Village Resort Bolpur Santiniketan?

You might be a candidate interested to visit Kopai Village Resort Santiniketan Bolpur. But how can you reach the Kopai resort? Here I will provide some information regarding the transport facilities to Bolpur Santiniketan. If you wish to select local transport, then cycle rickshaws, tourist cars and buses are easily available from the bus stands or railway stations. But the nearest airport to Bolpur Santiniketan is the DumDum Airport. Kopai Village Resort Santiniketan Bolpur is located at a distance of 56 kms from Durgapur, 213 kms from Kolkata and 197 kms from Samath respectively. After reaching this Bolpur Santiniketan, the Kopai Village Resort is easily accessible.

How to reach Bolpur Santiniketan by train?
Kolkata- Balurghat Express(13161)
Kolkata- Haldibari Super Fast Express(12363)
Kolkata- Jogbani Express(13159)
Gour Express(23154)
Santiniketan Express(12338)
Saraighat Express(12345)
Rampurhat Express(12348)
Kanchanjunga Express(15658)
Location/address of Kopai Village Resort Santiniketan
Kopai Resort,
Bolpur Suri Road,
Kendradangal p.O,
Sattore, Santiniketan,
Bolpur 731236
Birbhum, West Bengal
India
How to book rooms of Kopai Village Resort Santiniketan?
You can book rooms of Kopai Village Resort Santiniketan very easily whenever you plan a trip to Bolpur- Santiniketan . If you are trying for telephonic room booking, then dial 9233512355/03436510876. There is another facility also. You can book rooms at Kopai Village Resort of Santiniketan by visiting Kopai Village Resort booking office of Durgapur in the address mentioned below.

Kopai Village Resort,
Durgapur Zonal Office,
Saradha Group,
City Residency Building, 3rd Floor,
City Centre, Durgapur 713216


In future whenever you visit Bolpur- Santiniketan, try to book rooms at Kopai resort to enjoy the beauty of this place.



Image courtesy: tripadvisor.in