Information on the nightclubs of Goa

Wondering where to spend some quality time in Goa and have a party. You can visit famous nightclubs of Goa. In this article you can find information on nightclubs located in Goa.


Information on various night clubs of Goa


Goa is a popular destination for tourists who want to enjoy sunbathing in the beaches and party the whole night. Goa is known for its music crazy people and nightclubs where one can have a good time with friends. Infact the Goan trance music is famous world wide which has given birth to other form of music.

Although the goverment is trying to implement 11pm deadline for playing loud music and nightclubs, the same couldn't be practiced due to the ever demand of the tourists and the local people alike. Hence Goa can be a perfect place to enjoy late night parties and music and is the heaven for people who want to move their bodies to the sound of popular goan trance music. Goan nightclubs provide lots of world class facilities and can be regarded as the best in the country.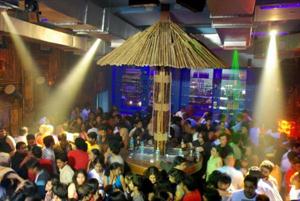 Popular nightclubs in Goa
Club Titos Club Titos is an international chain of nightclubs and has a branch in Goa, India. Although the chain of clubs is quite famos world wide the quality is comparatively lower in Goa.

This club is located on the Baga beach and is the most famous and highly regarded clubs in Goa. This is the favorite hangout place for youngsters in Goa as well as the tourists who come to Goa. The club has a discotheque and has speciality restaurants stretching along the beach. The club mainly plays funk, pschedelic and trance music for the various customers.


Club Extreme This club is located in the Miramar Road in Panaji and is quite famous club. The club is open throughout the day and plays some good music for the visitors.


Club CubanaThis club is located on Arpora Hills and is a sought destination for the tourists. Although the club charges Rs 399(Rs 299 for ladies) for entry, however it provides unlimited drinks. The DJs are good too and one can be assured of good music here.


Club Antoos This club is a new entrant to the list of nightclubs in Goa. It is located in the Calangute Beach, Goa next to Goan Heritage Hotel. The club has a large dance floor and good music.



Most of the nightclubs in Goa are known for hospitality and cater to the needs of the customer. There are also some high end hotels which provide great facilities in Goa.

Besides the nightclubs Goa also provides cruise ship facility in Goa. The Caravela cruise ship provides various facilities for nightclub and there is a casino where one can indulge in high- end casino with international standards.


Entry fee for Nightclubs in Goa

The entry fee for nightclubs in quite reasonable but varies from club to club. Clubs may chage from Rs 400 to excess of Rs 1000 for a night. However you won't need to spend anything for drinks as it is provided unlimited.


Important guidelines
Children are not allowed in nightclubs as per the guidelines.


It will be good to go with a group of friends to be on the safer side as some incidents have occured recently in Goa.


Do not take expensive items including jewelery in the clubs. It will be solely your responsibility for the loss of any items.