Prasad Imax- Multiplex. Details, timings, how to book tickets, contact address and phone number

The important entertainment to the people is Movies. Every body wants to watch film with high definition, great sound clarity and great comfort. Some people, want to shop and watch a movie. But, they don't have time to go for two place. Then Prasad Imax is a perfect place for them. There you can buy, shop, eat and enjoy the best experience of watching a film. Check this article for complete details of Prasad Imax including how to book tickets etc.


Prasad Imax

Prasad Imax is the One of the best multiplexes in the India. It is like a paradise for the movie lovers. In the Imax, you can make shopping, can eat and watch the latest movies. Prasad Imax is the best place for you and your family to spend your holiday. It is a perfect place for complete entertainment. It is the best place to see 3D films and special IMAX(this is the special format of the pictures which are displayed only in multiplexes) films. Prasad Imax had 5-6 screens which will always entertain the people with high quality pictures.




Location of Prasad Imax

Prasad Imax is located in the Khairatabad area of Hyderabad. It is one of the busiest areas of the city. It is well connected with local city buses and the metro local trains. There are lots of buses and trains. It is just located by the side of NTR gardens.


Attractions of Prasad Imax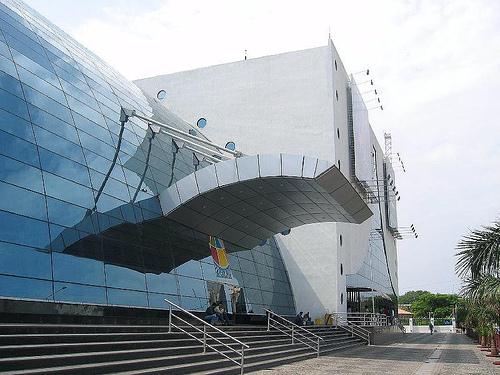 There are lots of attractions in Prasad Imax which will provide entertainment to the people. It is like heaven for the children to play, as there are lots of games to play for. But, you have to pay money to play those games. You can buy almost every thing there in Prasad Imax. It is almost equal to a shopping mall. There are shops of 25 multinational brands like Titan, Indigo Nation, etc which are always ready to attract the people and sell their products. Here in Imax, there are many great restaurants like Mc donalds, Subway etc which are always ready to serve the delicious foods to the food loving customers. Many companies conduct their events in the Imax every day. For that you have to already reserve before by contacting the Imax officials. Many companies introduce their new model bikes or cars here with the famous celebrities. Last but not the least, the movies watched in multiplexes which will give the most amazing experience of your life. The high quality, comfort and the video and audio clarity will give you unforgettable film experience.


How to conduct events and How to book tickets online in Prasad Imax

Tickets counter of Prasad Imax are always open between 9 A.M to 10 P.M in all the days of the week.

Tele booking is also available to book the tickets in the IMAX. It is available between 10 A.M and 10 P.M daily. There is 14 line telephone line is available for the facility of the people to get their calls connected. To book tickets you have to call to the number 040-39895050 . You should receive your ticket at the ticket counter before one hour of the show by showing the identity proof and tele booking reference number. You will be charged Rs 5 extra per ticket for tele booking and Internet booking. Group booking is also available for corporate companies.

You can also book your tickets online at the official website of the Prasad Imax http://www.prasadz.com . For Sales and Marketing you should contact to this email Id [email protected] . For Corporate companies to reserve seats they have to contact to the email id [email protected] or call to the number 040 23448888 .
For further details you can contact to this address :

Prasad Media Corporation Private Limited
NTR Gardens, LIC Division P.O.,
Hyderabad - 500 063
Or contact this email id: [email protected]

Thus, Prasad Imax is a must see place in Hyderabad to visit and It is a best place for a family to spend their day happily with full of entertainment and enjoyment.