PVR Multiplex, Hyderabad- Details

Day by day, People who are going to multiplexes are increasing rapidly. PVR is a well known company which had many multiplexes all over India . In Hyderabad also there is a PVR multiplex near Punjagutta. It is an excellent place to see high quality films, 3D films with full sound clarity and mesmorizing experience. Read this article to get complete details of PVR multiplex in theatre.


Nowadays, multiplexes are expanding very fastly and more people are going to multiplexes. Previously, people used to think multiplexes are for only rich people. Now the multiplexes have been available to common people too. This is due to increase in standard of living of people. That is why culture of multiplexes is spreading through out the country. First multiplex in the Hyderabad is Prasad Imax. PVR multiplex is opened after 2 ½ years after opening of Imax.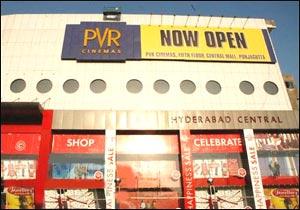 PVR opened a chain on multiplexes through out India. It is providing some of the best film watching experiences. Along with amazing film experience, you can have a great time with family. It had its theatres in many cities in India. PVR also provides facility for the corporate people to conduct some events also.


Location of PVR multiplex in Hyderabad

PVR multiplex is located in the Panjagutta which is one of the most busiest areas in Hyderabad city. It is located above the shopping mall Central mall of Hyderabad. Thus it is well connected by road and local trains from different parts of the city. PVR multiplex has 5 screens . All the screens have different, different timings.


How to book tickets in PVR multiplex, Hyderabad

To book the tickets in PVR multiplex there are five ways. First way is to buy tickets at the theatre. You can buy the tickets at the nearest theatre one to hours before the beginning of show upto the last minute of the show. Second way of booking the tickets are through Interactive Voice Response(IVR) system . To book tickets through Interactive Voice Response system, you have to call to 08800900009 and follow the instructions. You can choose the language too either English or Hindi. Third way to book tickets is through SMS. To book tickets by sending SMS, you have to send SMS in the format MOVIE to 53030. E.g. MOVIE Damarukam. The fourth way to book tickets is for bulk tickets. If you are going to theatre in group of more than 30 people. Then PVR is providing good facility to you. You can send a request to PVR management if you want to buy tickets in bulk i.e more than 30 people. They will provide to tickets. You can send the request in the website of PVR website. The fifth way of booking tickets is booking the tickets online. You can book the tickets for any show through the website of PVR cinemas www.pvrcinemas.com . Only nominal extra charges are collected for booking online. There is also facility to book the tickets in advance before many days. Once tickets are bought online. They cannot be refunded, cancelled or returned .


Other Facilities provided at PVR multiplex

PVR also provide additional facilities to people. It is providing bulk ticket booking facility for a group of more than 30 members through its website. PVR is also providing facility to book the tickets for the movies which are ready to be released. PVR also provides private screening facility to corporate people. People can arrange a special screening of a movie on special occasions. You can give corporate hospitality. You can gift it as an reward to your employees. On special occasions like film premier shows and Some schools or colleges will arrange such private screenings. PVR also hire the Venues for the several events. It hire venue for the film shootings, the events like fashion shows and award ceremonies. Corporate companies can also advertise at the multiplex theatre, it can increase the brand name of that companies.


Contact details and Address

PVR cinemas
Phone no: 040-666211155, 040-66621116
For booking through IVRS : 08800900009
For online booking website: www.pvrcinemas.com
Address: Hyderabad Central mall, 78-4-8/9, 5th floor, Panjagutta, Hyderabad-500082.