Laknavaram lake:Location, How to reach? Where to stay? And its complete details

Are you planning for a holiday vacation? Do you want to enjoy the beauty of forest? Do you want stay in wooden huts in an island which is present in a lake? Do you want to walk on a swinging bridge which connects one island to other ? Then there is no need to spend more money or travel for long distances. You can visit Laknavaram lake which is one of star vacation point in Andhra Pradesh. Read this article for the full details.


Do you want to enjoy the holiday in the hands of nature at an very affordable price? Then Laknavaram lake is one of the best locations for it. Laknavaram lake is constructed by Kakatiya rulers about 600 years ago. It is fresh water tank build for serving the drinking water purposes for the people. It was located amidst the Yeturu Nagaram forests. There are full of animals and main attraction is birds which had make the lake as their living area. Laknavaram lake have became one of the best tourist hotspots now a days. A.P Tourism department had made all arrangements for food and shelter in the Laknavaram lake.



Location and How to reach Laknavaram lake?

Laknavaram lake was located at a distance of 73 Kms from Warangal, the district head quarters and over 220 Kms from the Hyderabad, state capital of Andhra Pradesh. You have to reach Laknavaram lake by travelling by Mulugu-Jangalam National Highway. To reach Laknavaram, you have to travel 8 kms through the right side road which comes before Chalwayi village. Buses are available from Hanumakunda to Mulugu and Eturu Nagaram. Tourists from Hyderabad can reach Warangal by Train or bus and then reach the Hanumakonda bus stand. If you are travelling by car, then take care that you go to the lake during the morning times because at times it is danger to travel in those dense forests which are Naxals affected and under police patrol.


What to see at Laknavaram Lake?

There are total 13 islands are there in the lake. Tourism department had constructed a suspension bridge joining 3 islands. It is a great feeling walking the suspension bridge which is moving with your foot steps having a lake under you which is full of water. These suspension bridge has only pillars at two ends and balances by distributing the weight. It will be a great fun to the kids to enjoy walking on the bridge. Another main attraction of Laknavaram lake is travelling by boat in the lake. There will some speed boats and some normal boats available to travel in the lake. You can enjoy the nature while floating the lake and watchi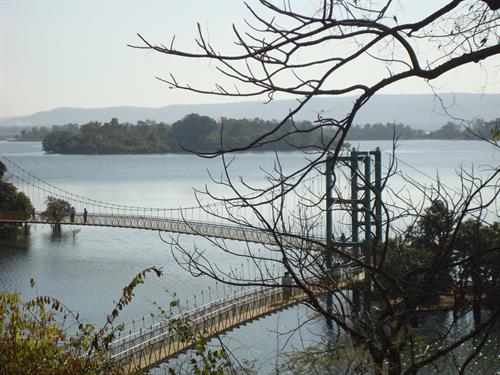 ng the mountains and forest around you.


Where to stay and Where to eat at Laknavaram Lake?

Andhra Pradesh Tourism department had built AC cottages at the main island in Laknavaram lake. They have also built air conditioned wooden huts in the other island. The room rent for double room is around Rs 1400 . There was AC restaurant also in the AC cottages. There you can get both vegetarian and non vegetarian food items.


Best time to visit Laknavaram lake? And contact details

To visit Laknavaram lake, the good time is from July to January. Make sure that Monsoon had started well, there were enough rains near Laknavaram and the lake is full of water. Because if there were no rains, you will be highly disappointed as lake will be empty without water. There will be no enjoyment. The phone number to be contacted to visit Laknavaram lake is 8897065307.


Other places to visit near Laknavaram lake

You can add all the historical places in Warangal district like thousand pillars temple, Ramappa temple, Pandava Caves etc to the trip. You can also see the Sammakka Saarakka Festival which is celebrated once in every two years. Ramappa temple is just 30 Kms away from Laknavaram Lake.

If you want to go for a trip to natural places at an affordable place during the monsoons, then You can go for Laknavaram lake.