Indian boxer Shiva Thapa: A wiki biography

Interested to know more about Shiva Thapa, the young Indian from Assam to qualify for Olympics 2012? If yes, read this wiki biography of Shiva Thapa to know more about his entry to London Olympics 2012, age, Facebook profile, boxing concept, victory at Asian men boxing qualifying tournament, awards won and many more!


Boxer Shiva Thapa is youngest Assamese to qualify for London Olympics 2012. This young Indian pugilist from Assam clinched a gold medal at Asian Men Boxing Qualifying Tournament by beating Japan's Satoshi Simizu, a 2009 Asian championship bronze medalist , 31:17 in the semifinals held on 12 April 2012 at Astana, Kazakhstan. Now this boxer from Assam is considered to be the young Indian to qualify for Olympics 2012 by entering the final of 56kg category in the tournament held at Astana. In the quarter finals, Thapa defeated Worapoj Petchkoon of Thailand, Athens Olympic Silver Medalist and 2010 Asian games winner. Shiva Thapa who proved himself to be an asset of our nation is one of the medal hope at Olympics 2012. From this Shiva Thapa wiki-biodata, you will be able to know more about his personal information, contact profile, biographic facts and many more!


Shiva Thapa: Personal information and contact details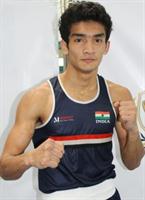 Date fo birth of Shiva Thapa: 8 December 1993
Present age of Shiva Thapa: 18
Nationality: Indian
Place of birth of Shiva Thapa: Guwahati, Assam
Occupation: Indian boxer
Rated at: Flyweight 54kg
First coach: Padam Thapa
Hobbies: Swimming, listening music
Parents of Shiva Thapa: Padam Thapa, Goma Thapa
The residential address of Shiva Thapa or mobile number of Shiva Thapa is not available but you can contact Shiva Thapa by leaving a message in Shiva Thapa Facebook profile which is given below
http://www.facebook.com/ShivaThapaBoxer


Family background of Shiva Thapa

Shiva Thapa's father Padam Thapa, by profession is a small scale businessman, who owns small steel furniture shop, a leading telecom franchisee in Guwahati. His mother Goma Thapa is a house wife. Shiva Thapa is the youngest in his family. His brother is a silver medalist boxer at the 33rd Guwahati national Games. Also he has 4 sisters.


The rise of Shiva Thapa as a promising young Indian Boxer

According to Shiva Thapa, boxing is a mind game. I know after hearing this concept about boxing from Shiva thapa, you may be a little bit surprised. Majority of the people in the world may have the opinion that boxing is a power game. But Shiva Thapa believes that more than a healthy person, an intelligent person having good fitness can take up this job. As a promising boxer of India, Shiva Thapa follows strict health habits including working out every day in the gym, going for a morning walk, eating plenty of salads and drinking plenty of water, avoiding junk and oily food, practicing everyday etc. No doubt at this young age itself, Shiva Thapa had won several achievements by hard work.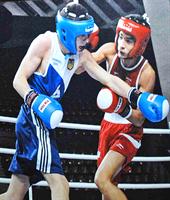 Before, entering into the game of boxing, Shiva Thapa showed his excellency in soccer and taekwondo. Later under his father Padam Thapa, who is a cultured sportsman, Shiva took up an individual game as his brother Gobind Thapa is also a medal winning boxer. When Shiva Thapa donned the boxing gloves, he was only 7 years.


Shiva Thapa in boxing ring

In the ring, Shiva Thapa would prefer to play like a tempo boxer if his component is tall. But the best thing Shiva Thapa prefers is to float like a butterfly and sting like a bee, which is a famous quotation on boxing by Mohammed Ali. But Myke Tyson has been Shiva's idol before he donned the gloves. Shiva Thapa likes Tyson's respect and love for the game. Shiva wishes he can learn Tyson's techniques in future. Now his dream and aim is to bag a gold medal at the 2012 Olympics.


Major achievements of Shiva Thapa
Bronze medalist at Junior World Championship, Korea, 2004
Gold medalist at European Grand Prix, Usti Nad Labem, Czech Republic 2009
3 times Gold medalist at Sub-Junior National Boxing Championship 2005, 2006, 2008
Gold medalist at Hyder Aliyeve Cup, Azerbaizan 2008
Bronze medalist at AIBA World Junior Boxing Championship, Armenia 2009
Silver medalist at AIBA World Junior Boxing Championship, Baku 2010
Silver medalist at Youth Olympic Games, Singapore 2010
Silver medalist at National Games 2011
Gold medalist at Belgrade Winner Tournament, Belgrade 2011