Ambubachi Mela 2012- Ambubasi festival(2012) of Kamakhya Devi Temple Assam

You might be interested to know more about Ambubachi Mela 2012 of Kamakhya Devi Temple, Guwahati, Assam? If yes, read this article to know more about the Kamakhya puja 2012 regarding its features, importance, legend, Ambubachi Mela 2012 schedules and timings, prasad, Kamakhya Devi temple website and address, location of Kamakhya Devi Temple, Ambubachi Mela 2012 date and many more!


Ambubachi Mela 2012 will be held from 22 June 2012- 26 June 2012 in Kamakhya Devi Temple, Guwahati, Assam. Before going into the details of this Ambubachi Mela, it will be interesting to know more about this Kamakhya Devi Temple. Situated on the Nilachal Hill of Guwahati city, Assam state, India, this Kamakhya Temple is an important pilgrimage destination in India for Hindus and Tantric worshippers. You can also search here the best time to visit Kamakhya Devi Temple.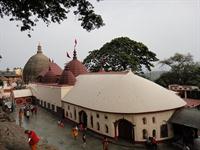 Kamakhya Devi Temple Assam

Kamakhya Devi Temple, considered as one of the 51 Shakthi Peethas is located at a distance of 8km from Guwahati. Apart from a pilgrimage centre in Assam, the Kamakhya Devi Temple is considered to be a tourist destination of Assam. Remember that this temple does not have an idol or image of Shakti. But actually what worshipped is a natural crevice in a rock that symbolizes a vagina, also known as Yoni. In this temple, you will be able to see the rock cut having the shape of yoni. This will be surrounded by a pool created by underground stream. There is a legend associated with the Kamakhya Devi Temple. According to the legend, Lord Shiva in his anger and grief was carrying the body of his dead wife Sati all around the world. Lord Vishnu with his Sudhrashana Chakra decided to decimate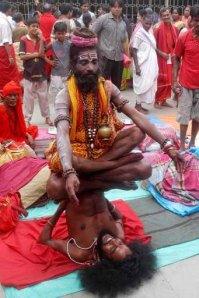 the body of Sati into 51 pieces. There is a belief that the present Kamakhya Devi temple stands at the spot where the yoni of Sati fell. You can reach the sanctum sanctorum of this temple only after passing two chambers.


Ambubachi Mela- The festival of Assam

Ambubachi Mela is also known in different names like the Ambubasi Festival, Ameti or Tantric Fertility or the Kamakhya Puja respectively. In general we can say that Ambubachi Mela, the holy festival is held only once in a year during the monsoon season to celebrate the menstruation course of Goddess Kamakhya. During this festival, the water in the underground stream of Kamakhya Devi temple turns red due to iron oxidation. There is a belief that it will be the menstrual blood. When the temple is closed for 3 days, some regular activities like pujas are also stopped. Only on the 4th day, after Devi is bathed then the temple will be opened to the devotees to receive the prasad.

It should be noted that Kamakhya Devi temple prasad is considered to be highly powerful. In simple terms we can say that Ambubachi Mela is celebrated to mark the annual menstrual cycle of Goddess Kamakhya. During this festival, thousands of devotees including foreigners will visit this temple. In order to meet the needs of devotees, the Kamrup district administrator along with government organizations, Guwahati Municipal Corporation Public Health Engineering Department will provide certain facilities to the travelers. As a part of the arrangements, temporary latrines have been installed to proper sanitation. Apart from this, GMC will be installing about 250 temporary water taps and flood lighting in all strategic areas.

Kamakhya Devi Temple official website: www.kamakhyatemple.org


Kamakhya Devi temple Address

Office of the Kamakhya Debutter Board
Kamakhya Temple Complex,
Kamakhya, Guwahati 781010
Assam State, India
Timing: 8:00 AM- 5:30 PM
Email: [email protected]
Tel: +91-0361-2734654 / 2734624


How to reach Kamakhya Devi Temple Assam?

I have already mentioned that Kamakhya Devi Temple is located in Guwahati city, Assam. If you are coming by flight or train, remember that this temple is located at a distance of 6km from the railway station while at a distance of 20km from the airport. From both these places, rent cars are available. So it won't be difficult for devotees to fire a car for visiting the Kamakhya Devi Temple. If you are interested to know the schedules and timings of Ambubachi Mela 2012, then you must visit the official site mentioned above.



Image courtesy: reviewne.com, kshetrapuranas.wordpress.com