Biography Of Filmmaker Madhur Bhandarkar, Winner Of Ganga Sharan Singh Award

Are you searching for the details of Madhur Bhandarkar, who had recently won the Ganga Sharan Singh award? If yes, you have come to the correct page. Here you will get details of Madhur Bhandarkar films and awards, how to contact Madhur, controversies, copyright issues, Seema Seth against Madhur, Seema Seth against Fashion, Madhur and El Dorado, Delhi court and Madhur Bhandarkar and many more!


Madhur Bhandarkar, the name more familiar to people as a film director, producer and script writer was presented the Ganga Sharan Singh award on 20 June 2012, for his great contributions to Hindi cinema. I would like to rewrite his name like National award winner Madhur Bhandarkar. Awards are given to persons when there are great contributions from their side. If you go through the best films of Madhur Bhandarkar, you will be able to understand the fact that he was given the National award for the great contributions. Read this wiki biography of Madhur Bhandarkar to know more about him.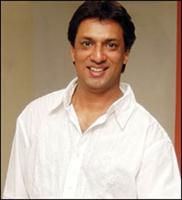 Madhur Bhandarkar: Personal information and contact details
Date of birth of Madhur Bhandarkar: 26 August 1968
Present age of Madhur Bhandarkar: 43
Place of residence: Mumbai
Spouse of Madhur Bhandarkar: Renu Bhandarkar
Daughter of Madhur Bhandarkar: Siddhi
Madhur Bhandarkar upcoming movie: Heroine
Madhur Bhandarkar films: Rangeela(1995), Trishakri(1999), Chandni Bar(2001), Satta(2003), Aan/; Men at work(2004), Page 3(2005), Corporate(2006), Traffic Signal(2007), Fashion(2008), Jail(2010), Dil Toh Baccha Hai Ji(2011)
Awards won: Ganga Sharan Singh award, National film award for best director(Traffic Signal), National film award for best feature film(Page 3), National film award for best film on other social issues(Chandni Bar)

The Email ID or residential address of Madhur Bhandarkar is not avialble but you can contact Madhur Bhandarkar in Madhur Bhandarkar twitter profile mentioned below
http://twitter.com/#!/mbhandarkar268


Madhur Bhandarkar personal life
Madhur Bhandarkar has to discontinue his school education as his father's business suffered heavy loss. He had to suffer a lot by working in video stores and to sell chewing gums to earn a living. Madhur is married to Renu Bhandarkar, an interior designer and they have a daughter named Siddhi. As an award winning film personality, you might be interested to know more about his career.


Madhur Bhandarkar film career
Madhur Bhandarkar considers Ram Gopal Varma as his mentor in film career. Actually he graduated to work as an assistant to Varma. After assisting him for about 5 years, Madhur decided to direct his own film. But his first film Trishakti was a flop. Later he made Chandni Bar, which was a semi-box-office success. You might be interested to know the idea behind creating such a film like Chandni Bar. It happened when Bhandarkar and his friend visited a beer bar not realizing that it was actually a dance bar. What they witnessed was drunken men throwing money on dancers. Tabu who acted the role of bar dancer in this film won the second national award. His new film Heroine had started shooting with , but later it got shelved due to the unexpected pregnancy of Aishwarya Rai Bachchan. Recently he was given the Ganga Sharan Singh award , which comprises of a cheque of Rs 1 lakh and a certificate. Apart from all this awards and film career success, his name is always related to some top hot news. Check out the following points to know what happened to Madhur Bhandarkar?


Madhur Bhandarkhar controversies
Small time film actress Preeti Jain filed a police case against Bhandarkar for rape and intimidation. However Madhur denies the charges. Later Preeti was arrested for giving Rs 75000 to some persons in underworld in order to kill Madhur. Later she was released on bail. The investigation proved that the complaint filed against Bhandarkar was false. But now there is latest news related to Madhur Bhandarkar. Based on a lady author's plea for allegedly copying the plot of film fashion from her book, the Delhi court will verdict on 27 June 2012. It is reported that Madhur will be in trouble if the court lodges FIR against him. Seema Seth, who is the author of the book El Dorado had filed a complaint for seeking compensation of Rs 2.5 crore. We have to wait and see will Madhur needs to pay the compensation?



Image courtesy: topnews.in