Attractions And Hotels In Chowpatty Beach Mumbai

Chowpatty beach is one of the most popular beaches in Mumbai. Read the article to know restaurants and food stalls near chowpatty beach, festivals along with specific attractions in this beach. You will find the information about the nearby hotels here.


Among all the Famous beaches of Mumbai, Chowpatty beach is the most popular one. The beach is located at the northern most part of Marine Drive of Mumbai.It is the only tourist place in Mumbai which is visited by millions of people throughout the year. Ganesh Chaturthi is the most popular fesival of Hindus which is celebarted every year in Chowpatty beach.


Many local stalls and restaurants in Chowpatty Beach Mumbai are present here for the visitors. Chowpatty beach becomes a resort of the people who doze under the shade of small trees. One of the famous food of Chaupatty is 'Bhel-puri' which is once eaten then can't stop yourself from having it once more. Paw Bhaji, Pani puri and Kulfi ice-cream are sold in the local stalls with modest fees. Coconuts water and Lime water gives a refreshment to the visitors. In the month of January, this beach also provides a platform for children to fly their kites in the sky with pleasant blowing breeze. During the evening, the beach turns out into a venue for some carnivals which includes amusement park and some rides for children. Children enjoys ferry rides and pony rides, while curb wayside astrologers make some swift money.

Teenagers come here to hangout and experience the cool breeze which blows during evening time. Lovers too come here with their loved ones which also makes this beach a romantic lovers dating place in Mumbai.


Festivals in Chowpatty Beach Mumbai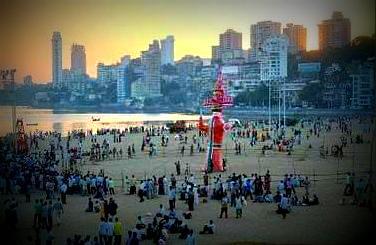 Two major festivals of Hindus are celebrated here includes Ganesh chathurti and Coconut festival. Every year, on the occasion of Ganesh Chathurti, millions of people comes here to worship Lord Ganesha. At the festi seasons, this beach is full of worshipers who gather here to celebrate particular festival. Also during Ganesha Chathurti, people in large number come here for Murti visarjan.


Hotels near Chowpatty Beach Mumbai
Krishna Palace Hotel
0.97 Km from Girgaon Chowpatty Beach
96/98. Sleater Road, Nana Chowk, Mumbai - 400007, Mumbai
Hotel Royal Castle
1.05 Km from Girgaon Chowpatty Beach
76, August Kranti Marg, Gowalia Tank, Off Kemps Corner, Mumbai
Hotel Tiptop
1.15 Kmfrom Girgaon Chowpatty Beach
394, Lamington Chambers, Lamington Road, Mumbai
Hotel Kemps Corner
1.22 Km from Girgaon Chowpatty Beach
131, August Kranti Marg, Near Pedder Road Flyover Bridge, Kemps Corner, Mumbai
The Shalimar Hotel
1.23 Km from Girgaon Chowpatty Beach
August Kranti Marg,Near Kemps corner, Mumbai
Regency Hotel
1.3 Km from Girgaon Chowpatty Beach
73, Nepean Sea Road, Mumbai
Best Western Hotel Sahil
2.09 Km from Girgaon Chowpatty Beach
292 JB Behram Marg, Mumbai
Hotel Fortune
2.17 Km from Girgaon Chowpatty Beach
36/38, 1st Marine Street Metro, Dhobi Talao , Mumbai