Biography and Profile of Anjana Padmanabhan - Indian Idol junior final contestant

Anjana Padmanabhan is a popular singer. Read the article to know about her life history, biography, personal profile and much more! You can get all the information related to his singing career in this page.


Biography of Anjana Padmanabhan

Anjana is one of the top ten contestants of Indian Idol junior. Her pet name is laddo and kuttima. She lives in Bangalore where his father works as chartered accountant at a big firm whereas her mother is a housewife. She is fond of watching movies and eating junk food. Also, she love to play carom with her family. Moreover, she also like to play games like Basketball, Tennis , Table Tennis, Badminton, Swimming, Golf, Cricket. She often does planks on people. She doesn't like eating healthy food and playing with Barbie doll.

Her simple and confident nature impressed the judges of Indian Idol. She is a bubbly and naughty girl who loves to enjoy spending time with her family. She is always confident about her singing. Though she is south Indian, she sings the Hindi songs with fluency. She is a quike learner who love to take challenges.


Biodata of Anjana Padmanabhan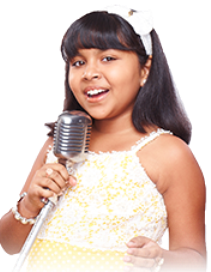 Full name: Anjana Padmanabhan
Age: 10 years
City: Bangalore
Pet name: Laddoo and kuttima
Favourite Colour: Golden, Violet
Favourite Singer : Shreya Ghoshal , Lata Mangeshkar , Asha Bhosle
Biggest Dream : Wants to go to the Hong Kong Disneyland
Ambition: to become a great singer or a pilot
Singing background of Anjana Padmanabhan

She had learn the Carnatic music from Akila for 1 year. Also, she is trained in classical music which was taught to her by Shriman Pandit Hegde. Moreover, her father used to teach her bollywood songs. She gave audition for Indian Idol junior. Her performance impressed the judges very much. Shreya Ghosal is her favorite judge in Indian Idol.