Tamilnadu Diwali Mixed Vegetable Biriyani recipe in Hotel Style

Get to know how to prepare Tamilnadu vegetable Biriyani with the same taste of hotel. In this article you can prepare Biriyani in a very simple and easy method.


South Indian Mixed Vegetable Biriyani recipe in Traditional Hotel Style

Vegetable Biriyani is one of the tasty and favorite rice recipe of many food lovers. Here in this recipe you get to know how to get the original traditional taste of Biriyani. Try this at your home and enjoy.


Ingredients to make Vegetable Biriyani recipe

Basmati rice – 1 cup
Onions- 3
Tomatoes-2
Vegetables of your choice - 2 cups (beans, carrot, potato, cauliflower, peas, capsicum)
Coriander powder-2 tbsp
Chilli powder-1 tbsp
Green chillies- 3 nos
Pudina leaves-I/2 bunch]
Coriander leaves-1/2 bunch
Garlic- 6-7nos
Ginger-1/2 inch
Bay leaf
Saunf-1 tsp
Tamilnadu special recipes
Tamil recipes
Tamilnadu festival recipes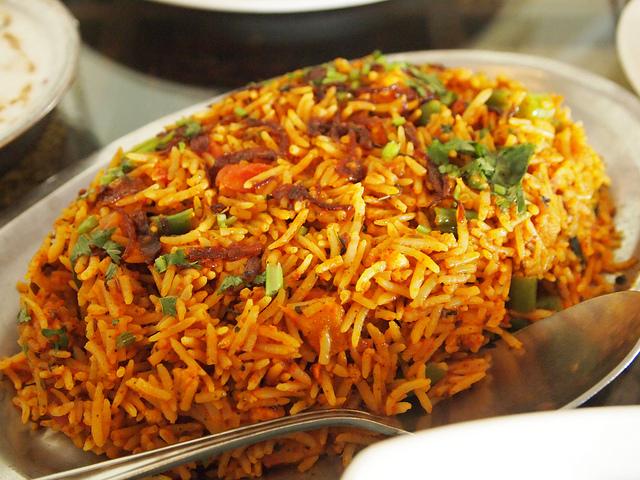 Procedure to make South Indian Style Vegetable Biriyani recipe

1. Grind chopped onions, garlic, ginger, green chillies, coriander leaves in a mixie to a fine paste.
2. Wash the basmati rice and soak in water for half an hour.
3. Heat oil in a pressure cooker, add the masala items, now add the ground paste, chopped onions, tomatoes and sauté for a while.
4. Next add the pudina leaves, and the finely chopped vegetables and stir well.
5. Add the coriander and chilli powder along with the salt, mix well and add 1 ½ cups of water.
6. When the mixture starts to boil add the basmati rice, close the pressure cooker, put the whistle and reduce the flame to sim.
7. Wait for 10 minutes, now remove the cooker from stove.
8. Wait for 10 minutes, open and mix well with a wooden ladle.
Tasty Chettinad vegetable biriyani is ready to be served.