Mangadu Kamakshi Amman Temple Pooja for Marriage, Child birth, Job opportunities

Are you searching for a life partner? Is your marriage getting delayed? Are you a couple still not blessed with a child? Is your job not satisfactory for you? Then don't wait come to Mangadu Kamakshi Amman temple and perform the poojas for getting what you desire.


Mangadu Kamakshi Amman Temple Pooja for Marriage, Child birth, Job opportunities

Mangadu Kamakshi Amman Temple is one of the ancient temples which is located about 24 Kms from Chennai between Kundrathur and Poonamallee. Aaru vaara vazhipadu or continous prayer by visiting the temple for 6 weeks will help the devotees to achieve what they desire.


Who should worship the Goddess Mangadu Kamakshi

1. Unemployed youths: Those who are in search of a job can worship the Goddess for employment opportunities.
2. Unmarried Girls and Boys: Those who are in search for a suitable life partner.
3. Childless Couples: Couples who are delayed with child birth.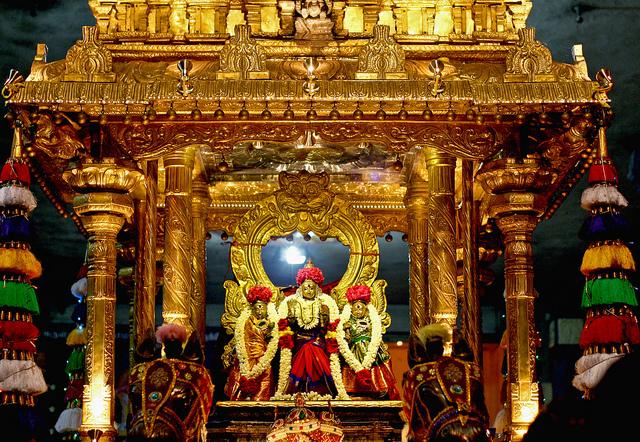 Pooja for employment opportunities to Mangadu Kamakshi

Men and women who are unemployed or those seeking for good employment opportunities can be blessed with a good job if they vist Mangadu Kamakshi Amman temple on Tuesdays and worship the goddess. Visit the temple for 6 Tuesdays continuously and get be blessed with a good satisfactory job opportunity.


Pooja for Unmarried to Mangadu Kamakshi

Many families would have done a long search for choosing a life partner for their boys and girls. Those could pray the goddess for getting married soon. For getting the blessings of Goddess Mangadu Kamakshi one can choose either Tuesdays or Fridays or Sundays for their delayed wedding to take place immediately. They should visit for 6 weeks. The unmarried girls are given a yellow cloth with a turmeric piece which they have to tie to the holy tree near the temple entrance. There is a strong belief that by following this ritual one is sure to be blessed with a good life partner.


Pooja for childless couples to Mangadu Kamakshi

Those couples who are not blessed with a child can visit the temple on Fridays and they should tie a tiny cradle in the sanctum sanctorum of Mangadu Kamakshi either on the first or the sixth Friday.


Mangadu Kamakshi method of worship

Devotees must first inform the priest about our prayer and must do a archanai to the Goddess on our first visit with Thamboolam which is nothing but Beetel leaves, nuts, coconut, banana, flowers, camphor and two lemons. The blessed lemon should be kept in the pooja room. After this we should perform the same pooja on the 6th week of or visit. Chant the following lines daily in your pooja room atleast for three times:

"Adhisayamana Vadivudaiyal Aravindhamellam
Tudhisaya Aana Sundaravalii Thunai Iradhi
Padhisaya Mana(dhu) Abasayamaga mun Paarthavartham
Madhisaya Magavandro Vaamabagathai Vavviyadhe"

Come visit the temple and get the blessings of Goddess kamakshi.

Mangadu Kamakshi Temple timings: 5.30 am – 12.30pm in the morning and 5pm- 9pm in the evening.