Madhavaperumal Temple Chennai, Location, Significance & Deities

This article is about one of the ancient temples in Chennai Mylapore Madhavaperumal Temple. This 800 year old temple has got a historical significance. Read the article to know about the significance of Madhavaperumal Temple.


Madhavaperumal Temple Chennai for Childless Couples

Madhavaperumal Temple is one of the ancient temples which is located at Mylapore in Chennai. This is one of the oldest temples about 800 years old and also has got a historical significance. Mayurapuri Mahatmiyam has mentioned about this famous temple.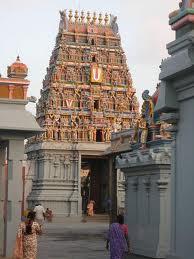 Deities in Mylapore Madhavaperumal Temple

The Presiding deity is Madhavaperumal and the goddess is Amirthavalli. The holy tree present here is Punnai tree and the holy water is called as Santhana pushkarini


Historical significance of Mylapore Madhavaperumal Temple

There is a story behind this famous temple. Sage Brighu lived in Madhavapuram. He was childless and he prayed to Lord Vishnu to bless him with a child. The lord sends his wife Mahalakshmi in disguise to the sage and he adopts the child as his daughter. When she grows up the lord comes and married her. The lord comes here in the name of Madhavan and thus the temple got its name. Their marriage took place on Panguni Uthiram which is celebrated till today.


Pooja to Mylapore Madhavaperumal Temple for Childless Couples

There is a pond in the temple called as Santhanapushkarini. It is believed that if the childless couples have a dip they will be blessed with a child. After dipping themselves in water they should pray to the lord wholeheartedly for a child.

Location of the Mylapore Madhavaperumal temple: Situated near Sanskrit college and Mundakanni Amman temple

Mylapore Madhavaperumal Temple timings: 6.30am- 11am and 4.30pm- 9pm.