Summer Camp 2013 in Chennai for kids between 3 to 16 years

Are you searching for summer camps in Chennai then this resource "Summer Camp 2013 in Chennai for kids" gives you the complete list of various workshops and camps which is going to be conducted for kids in various parts of Chennai city. In this resource you get to know the date of commencement of the summer camps, the activities and the address details of the summer camps in Chennai.


Summer Camp 2013 in Chennai for kids

Do you want to know about all the summer camps and their details in Chennai. Do you want to make your kid spend his or her summer holidays in a useful manner? Then you can join them in any of the summer camps listed in this article. Get to know about the various Summer camps 2013 in Chennai conducted by various educational organisations in different areas of Chennai. Read the article and know more about summer camps 2013. Bookmark this page to get updates about all the new summer camps 2013.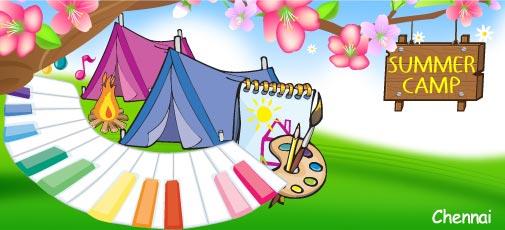 Summer Camps 2013 for Teens to Super Teens in Action DNA, T. Nagar Chennai

Action DNA at T. Nagar conducts a activity based training in personality development for this summer. Summer camp is for 8th to 12th Std. teens and it is conducted in 3 batches which are as follows:
Batch I Summer Camps 2013 – April 1 to 16
Batch II Summer Camps 2013– April 17 to 30
Batch III Summer Camps 2013– May 1 to 16
Contact address of Action DNA
Action DNA, T. Nagar
Ph No. 98403 04020, 92822 39388, 044-4212 8965


Summer Cricket coaching camp 2013 Adyar Chennai

Summer cricket coaching camp for children is conducted at St. Michael's Cricket ground, Gandhi Nagar, Adyar. This cricket camp starts on April 8 and ends on May 18, 2013. The timings is from 6.30 to 8.30 a.m & 3.30 to 5.30 p.m.
Contact Person and Ph No.: Hari at 9962424649


Summer Arts camp at Smart Kids for 3 to 16 years at Nungambakkam Chennai

Smart Kids conducts a summer camp which starts from April 1 to May 31, 2013. This is a very interesting summer camp which trains the kids in Basic Drawing, Cartooning, principles of animation, Stop Motion Animation, Clay Modeling, Adobe Photoshop and Flash.
Contact address for Smart Kids summer camp 2013
Amaze Multimedia, Nungambakkam
Ph No. 9442229749, 9486389999, 044- 28266005 /06


Summer Music Camp 2013 at Unwind centre Kilpauk & Adyar Chennai

This summer camp is all abot Music fundamentals covering the basics of music theory, vocal training, guitars, keyboards and drums for children of ages 7 to 16 years. This camp is from April 20 to 30, 2013
Contact address for Music summer camp 2013
Unwind Center, Kilpauk and Unwind Center, Adyar
Ph No: 9841379494, 9941005949
Email : [email protected]