Karaikudi Chettinad Restaurants in Chennai, Menu & Contact details of Karaikudi Restaurant branches

Are you planning for a buffet dinner with family and friends? Do you want to know about Karaikudi Chettinad Restaurant in Chennai? Read this article to know the price, menu, branches, contact address of Karaikudi Chettinad Restaurants in Chennai.


Karaikudi Chettinad Restaurants in Chennai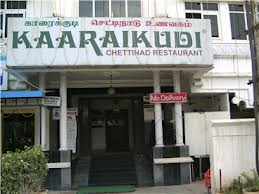 Karaikudi Chettinad Restaurant is one of the most popular Chettinad style hotel in Chennai which offers all types of Chettinad food items. This restaurant is fully air-conditioned and offers both vegetarian and non-vegetarian items. Karaikudi Restaurant offers delicious and mouth watering foods such as Biriyanis, Paniyarams, Kola Urundai dishes, Kuzhipaniyaram, Appam, Iddiappam, Pepper fries, etc. The restaurant accepts all major Credit cards, Sodexho food coupons and cash. Home delivery is also available.

Timings of Karaikudi Chettinad Restaurant: One can go to the restaurant for having lunch and dinner. The timings are 11:00 am to 3:30 pm and 6:30 pm to 11:30 pm.


Karaikudi Chettinad Restaurant Buffet Dinner @ Rs. 99

Karaikudi Chettinad Restaurant offers buffet dinner at Rs. 99. The tiffin menu for buffet is as follows:
Karaikudi Chettinad Restaurant buffet menu

• Idlis
• Idiappams
• Soup
• Chutney
• Kuzhipaniyaram
• Dosas
All the above items are unlimited.


List of Karaikudi Chettinad Restaurant branches in Chennai

Karaikudi Chettinad Restaurant, Velachery
Shop No. 3-C, Karaikudi Complex,
Taramani Link Road,
Velachery ,
Chennai
Landmark: Near The Dhaba
Tel:: 22432212, 22432214
Timings: 11:00 AM to 3:30 PM, 6:30 PM to 11:30 PM
Meal Type: Lunch, Dinner

Karaikudi Chettinad Restaurant Ashok Nagar
Sendan Tower
1st avenue
Ashok Nagar
Chennai - 83
Tel: 044 42318444 / 24717060
Mob: 9840175028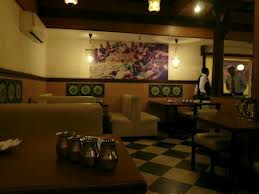 Karaikudi Chettinad Restaurant, T Nagar
17, Vijaya Raghava Road
T Nagar
Chennai - 600017
Landmark: Behind GRT Hotel
Tel: 044 28151022 / 28151021

Karaikudi Chettinad Restaurant, Anna Nagar
32, 2nd Main Road
Anna Nagar
Chennai - 600040
Tel: 044 26213888 / 26211777 / 42071254
Landmark - Near Chintamani

Karaikudi Chettinad Restaurant, Besant Nagar
T45A, Subham Complex
7th Avenue, Velankanni Church Road
Besant Nagar
Chennai - 600090
Tel: 044 24910900 / 42071255 / 24459995
Landmark - Near Velankanni Church

Karaikudi Chettinad Restaurant, Mylapore

New No.118, Old No. 84,
Dr. Radha Krishnan Salai,
Mylapore
Chennai 600004
Tel : 28111893/ 1128/ 0553

Karaikudi Chettinad Restaurant
40, Shivani Block, Ist Floor,
East Coast Road,
Thiruvanmiyur,
Chennai - 600041
Landmark : Above Food World,
Tel : 044 2445 2127 ‎

Karaikudi Chettinad Restaurant, Chromepet
407/7, GST Road
Chromepet
Chennai - 600044
Landmark - Near Vetri Theatre
Tel : 044 22411717 / 0405