Aadi Discount Sale 2013 Chennai, Aadi discounts, offers and gifts 2013

This article "Aadi Discount Sale 2013 Chennai, Aadi discounts, offers and gifts 2013" gives you details about the discounts offered in various textile shops in Chennai. Read the article and be ready for the shopping.


Aadi Discount Sale 2013 in Chennai

Tamil month Aadi is considered as very auspicious and ritual. There are many festivals celebrated in this month and many of the shops like textile shops, mobile shops, home appliances give great discounts. This article gives you the list of those shops which offer discounts.


Pothys aadi sale 2013

Pothys one of the leading textile kingdom of Tamilnadu offers great discounts for the month of Aadi 2013. The aadi discount starts on June 1st and ends in August 16th 2013. The discount ranges from about 5 to 50 % on all top brands. The kids will be given coin box or hundial as free gifts. About 12 lakhs hundials are going to be given as free gifts to the kids.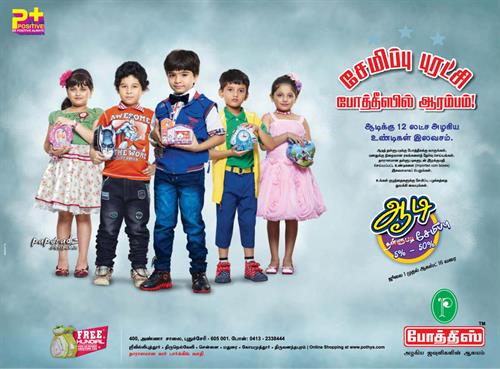 RMKV silks Aadi sale 2013

RMKV also offers aadi discount sale 2013. Those who shop in this month are given gifts. There is a great discount for all men, women and kids wear garments.


Chennai silks aadi sale 2013

Chennai silks gives discount on chudidar materials, kurtas, branded mens and kids garments.


Saravana stores aadi sale 2013

Saravana stores is one of the popular shops known for its cheap and best rates. They have also announced discount offer for all types of garment items.


Jeyachandran textiles aadi sale 2013

Jeyachandran textiles has announces discount on silk sarees and all branded garment items. There are also buy one get one free offers on selected items.

Bookmark this page to get more updates about Aadi Sale 2013.