Masala Kart Street Food Festival 2013 Island Grounds Chennai Relish Hygienic Street Foods of India

Are you in search of a good place for dining? Do you want to taste something different? Bored of the regular food pattern. Then here is a good news for you. Come and enjoy the "Street Food Festival" at Island Grounds Chennai. Read the article to know more about the food festival.


Masala Kart Street Food Festival at Island Grounds Chennai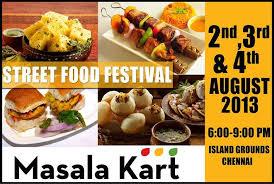 Happy news for people who love eating. Red Chariots Event Management and Marketing pvt. Ltd. Organizes the largest street food festival in Chennai named as the Masala Kart Street food festival at Island grounds, Chennai from 2nd to 4th of August 2013 from 6.00- 9.00 P.M. Here you can taste 133 varieties of Authentic and Street Foods across all over India made by renowned 110 food specialist across India. Don't miss this wonderful opportunity of relishing this street food prepared in a hygienic way.


Details about Food Festival at Island Ground Chennai

Street Food Festival Venue: Island Grounds Chennai
Street Food Festival Dates: August 2,3 and 4, 2013.
Street Food Festival Time: 6:00 PM to 9:00 PM

Street Food Festival Contact Details
Island Grounds,
Exhibition Grounds, Near Napier Bridge
Chennai 600 009.