WinDVD 11 Pro Features Review

In this article, I provided detailed information about the trial version of WinDVD 11 Pro. It is one of the efficient Blu-ray 3D playback software available for Windows Operating System. It can provide stunning video sharpness and outstanding audio quality with surround sound. New version of WinDVD excels in efficiency and performance than it's predecessors.


Overview

WinDVD is one of the recognized DVD playback software now available in market. It is owned and distributing by Corel Corporation. Now it comes with new full Blu-ray 3D playback technology and outstanding performance. In addition to Blu-ray 3D playback support, it can convert DVD video or any High Definition video to 3D, HD upscaling and more. In WinDVD Pro 11, Corel Corporation integrated Corel FlixFinder to find out your favourite movies through online at the lowest price. Now I would like to share some information about new leading Blu-ray 3D player available for Windows Operating System. Let's find out the features, price, pros and cons of new WinDVD.


Price & Availability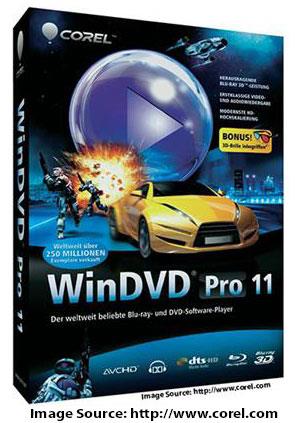 Corel Corporation offers trial version of new WinDVD , now it is available to download through their official website www.corel.com or anyone can download it via third – party websites like softpedia.com, cnet.com,softsonic.com, etc. Corel WinDVD Pro 11 trial version enables you to try it for 30 days. In evaluation period, you can experience all new features of this product along with new 3D Blu-ray technology. In case you would like to purchase new WinDVD Pro 11 then you can purchase it directly from their official website. Now it seems Corel Corporation sells WinDVD Pro 11 at very affordable price, they reduced $30 USD for WinDVD and sell it for just $49.99 USD. I hope $49.99 USD might not be too costly if you really looking for an efficient video player offers all new advanced technologies which increase your visual experience. In addition to this, Corel Corporation also offers 30 Day Money Back guarantee in case you are not satisfied with this product. Now WinDVD Pro is available in two different versions – Download Version and Box Version. By selecting download version of WinDVD 11 Pro, you can download the application package and install it on your computer. After the purchase, a serial number will be provided via email to unlock this software. With download version, Corel Corporation does not providing User Manual or Backup CD. In order to get these addons you need to go for Box Version. But unfortunately Box Version is currently available to residents of United States only. By selecting Box Version, the purchased product will be shipped to the address you specify. There are four shipping options are now available to residents of United States, but you have to pay additional price for shipping. The available shipping options are FedEx Ground, FedEx Standard, FedEX Priority and FedEX Priority US Islands, it costs $9.00 USD, $11.00 USD, $15.00 USD and $25.00 USD. In case you already owned previous version of Corel WinDVD 11 Pro then you can upgrade to current version by paying $39.99 USD. By paying additional $9.00 USD, you can own 2 Year Software Download Insurance.


Specification of WinDVD 11 Pro
Software Version: 11.0
File Size: 118.17 MB
Developer: Corel Corporation
Website: www.corel.com
Price: $49.99 USD
System Requirements for installing WinDVD 11 Pro
- Intel Core 2 Duo or higher / AMD Athlon or higher
- Requires windows XP / Windows Vista / Windows 7
- Requires 1 GB RAM or higher
- Requires minimum 330 MB Hard disk space
- Requires CD / DVD / Blu-ray disk drive
- Requires compatible Graphics Card and Sound Card
Interface & Features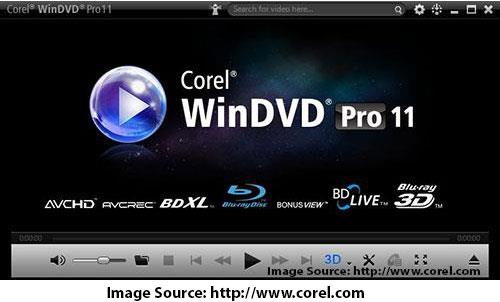 The designer used excellent design sense in designing the whole interface of this software. New WinDVD 11 Pro uses very simple, lightweight, responsive and clean interface that enables user to navigate around with less effort. Here designer doesn't used to clutter the main interface with too many options and buttons. It is really very nice to see all necessary control buttons lined up on cloudy white menu bar in well arranged manner. You can find a FlixFinder search bar at the top of main user interface, where you can search for your favourite video while your computer is connected to the internet. In addition to Corel's FlixFinder search bar, you can also see preference and Corel Guide button right beside the Corel's FlixFinder search bar. Frameless movie playback is a really good visual experience, it allows user to concentrate on running video from other distractions.

Talking about the features, WinDVD 11 Pro comes with enhanced features and exciting Blu-ray 3D playback technology. It now supports full blu-ray 3D playback with ultimate 3D intensity and supports almost all leading 3D technologies such as Anaglyph, NVIDIA 3D Vision, 3D TV with Checkboard technology, 3D TV with row – interleaved technology and HDMI 1.4 video output. The native 3D support and 3D upscaling capabilities can increase the 3D experience, but in order to view Blu–ray 3D content with its full effect you need 3D supportable monitor and a bit of some additional hardware features. In case, you does not have 3D contents for 3D playback then Corel's new 2D to 3D conversion technology can help you to view your favourite 2D video in 3D, but 2D to 3D conversion technology doesn't give as much 3D perfection unlike playing original 3D content. One notable feature I found is the software's Motion Streamliner, which provides higher sharpness for fast motion videos. In addition to Motion Streamliner, WinDVD 11 offers new anti-shaking technology, which can easily deal with homemade videos or videos with shaking effect. Now it is possible to run quick and easy search with the new Corel's integrated online video search engine, Corel FlixFinder. Corel FlixFinder web service enables you to purchase available online legal video contents. Moreover it enables you to compare prices, view detailed disc information, submit ratings, writes comment about your favourite video, etc. Another notable feature of this multimedia video player is it's support for almost all popular file formats. Along with high quality video playback, an efficient multimedia player must be capable to provide high quality audio output. Fortunately, this multimedia player is not far behind all other leading multimedia players in market which deliver high quality audio along with high quality video. It can deliver high quality crystal clear surround sound with minimum noise. If you are a laptop user, then Power optimization feature increases the movie playback time while your laptop running in battery mode.


Installation & Performance

In order to evaluate this multimedia player, I installed this application on PC running Windows 7 Ultimate 64 bit Operating System, which features Intel core i3 processor, AMD Radeon 6770 with 1 GB GDDR5 video memory, 4 GB DDR3 RAM and 1 TB Hard drive. I used LG D2342 1080p Full HD 3D LED monitor to test 3D video Playback. Installation of WinDVD 11 Pro was not too fast, it took almost 1-2 minutes to complete the installation. After the successful installation, you need to choose the initial settings for this software. You may use 'Recommended settings' or 'Custom Settings'. By Choosing 'Recommended settings' make Corel WinDVD Pro 11 as default media player. By Choosing 'Custom Settings' allow you to choose file formats you would like to play using this application. Then you need to complete the registration process. I didn't feel any delay in launching WinDVD, but it may take a bit longer if your hardware or operating system delivers less performance. I could able to find that it was using almost 90 MB of system memory while program is running. The CPU usage and performance is comparatively good than it's predecessors. Talking about the 3D experience, it delivers outstanding 3D depth but I found some lack of 3D projection which delivers by PowerDVD. As I said before, your system may require a bit of additional hardware features to experience full 3D effect. It is very difficult to find out an efficient multimedia player with outstanding Blu-ray playback capability along with excellent audio quality, but Corel WinDVD excels in remarkable audio quality along with high quality video playback technology.


Pros & Cons
Pros of WinDVD Pro 11
It uses clean and simple interface.


It provides outstanding 3D blu-ray playback.


It supports almost all popular file formats.


It uses Motion Streamliner to provide higher sharpness for fast motion videos.


It uses anti-shaking technology.
Cons of WinDVD Pro 11
It uses more system memory.


Requires a bit of additional hardware features for the outstanding performance.
Help & Support

Corel Corporation provides excellent sales and technical support for customers. For queries, you can contact Corel's sales or technical department via live chat, email or telephone. Also you can find a detailed FAQs section in their official website, where they answered to most of the questions regarding common issues and doubts. In addition to this, you can access Corel Guide via WinDVD 11 Pro main interface. Corel Guide enables you to search for tutorials, hints, tips and more about using new WinDVD.


Conclusion

I just reviewed the trial version of WinDVD 11 Pro. It is one of the finest multimedia players now available in market. Now this application comes with enhanced features and performance. It excels on outstanding 3D Blu-ray playback and audio quality. The price of this application is comparatively low compared to other leading multimedia DVD players. Because of it's enhanced features, WinDVD Pro 11 already made a position among leading multimedia players. If you made decision to purchase this application, then I can assure you that it will worth some money.