Vikas khanna, the celebrity judge of Master chef India show

Vikas khanna is a popular and famous chef. In this article I have written how Vikas khanna's journey started from a town in Punjab to cooking for Mr. Barack Obama. Read how a unconventional profession like cooking can take you to the path of success if there is passion involved.


Everyone is familiar with the popular show "Master Chef India" which is being aired on television. Among the three judges the most popular celebrity judge is Vikas khanna. In this article I am sharing the success story of Vikas khanna , and learn, how hard work and patience brings achievement and accomplishment.


Birth and childhood :

Vikas Khanna aged 40 is a Punjabi born on 14th of November in Amritsar, Punjab. His parents are Davinder and Bindu khanna. He has an elder brother and a younger sister making him the second child of his parents. Till the age of 13 Vikas khanna was not able to run due to his misaligned lower limbs. This reason acted as boon to Vikas khanna, as he started to spend time with his grandmother in the kitchen.


Young entrepreneur and graduation :

Vikas khanna started picking up interest and nuances of cooking from his grandmother and started innovating new recipes and dishes. At the age of 17 Vikas khanna started his own business as a catering firm. It was named Lawrence Gardens, and he charged rupees 25 per plate. At the same time he enrolled into "Welcome group graduate school of hotel administration" in the year 1991. During his college days Vikas khanna had the fortune to learn cooking under the guidance of several renowned chefs. Vikas khanna never looked back since then.


The creative aspect :

Apart from an entrepreneur, Vikas khanna also penned several culinary books. Few of his books are
• The Spice Story of India
• The Cuisine of Gandhi - Based on the beliefs of the Legend
• Modern Indian Cooking
• Everyone Can Cook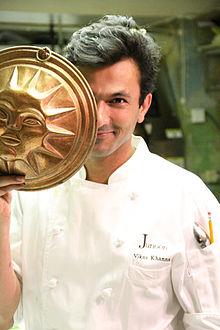 (Source of image: Wikipedia)

Vikas khanna also made series of documentary films called "Holy kitchens" connecting rituals and cooking of various communities.


Charity works :

Vikas khanna is also a humanitarian. In the 2010 he started "South Asian Kids Infinite Vision" abbreviated as SAKIV. This organization concentrated in providing relief to victims of natural disasters. In collaboration with other charitable trusts like "Save the children" Vikas khanna organized several fundraising events at "The great pyramid of Giza" and "The Taj mahal" in India.

In the year 2011 he started another charitable organization called "Cooking for life" along with many renowned chefs in the world to aid the victims of natural disasters. Another feather in Vikas khanna's hat is his award winning workshop "Vision of palate" organized for blind people encouraging and teaching them to cook using their sense of taste and smell.


Accomplishments and accolades :

After his graduation he moved to United States of America for his further studies and settled in Michigan. After his graduation he worked in few restaurants as a chef and later opened an Indian restaurant "Junoon". The restaurant received rave reviews and was also honored with the Michigan star.

Vikas khanna by his principles is a democrat and supports Mr. Obama. He hosted a dinner for "Hindu American seva charities" on 29th of July in "The White house" where Mr.Obama was all praises for Vikas khanna.
Apart from winning many awards and accolades, Vikas khanna was voted as "Handsomest man alive" by People's magazine, India.

During one of his interviews Vikas khanna said that he would like to get married and have a family of his own. One of the accomplishments he himself feels proud of was when he prepared a meal costing rupees 200000 per plate. He started his business with a plate at rupees 20. I wish he goes a long way with great success and continues his charitable works and win many more awards making India proud.