Nicco Park - Amusement park of Kolkata

Kolakata is the one of the place, you say that it was the pride of Bengal. Kolkata many parks are their but 1 parks are famous and attractive to the visitors. Read the full article to know about the famous park.


Kolkata is a place of many tourist spots, many bridges, many parks are their. But the most important thing is those parks are attracting in the visitors this parks are this time famous.But one of the park in kolkata name as Nicco park is famous for all over the state.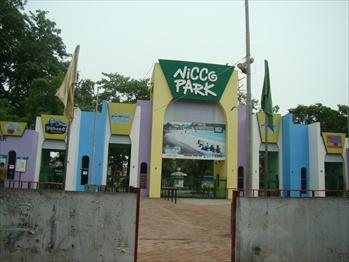 About Nicco park

Nicco park is situate at the nearest of Salt Lake. Entrance charges of Nicco Park is Rs.25/- Per person.Time to Visit the Nicco park General :10 A.M. - 8 P.M. & For Rides : 11.30 A.M. - 8 P.M..


Attraction of Nicco park

The parks many things are their,You go their to see all these things given below:


Water Chute
:It is pouplar rides in the Park

Twist-&-Turn
:It is like doli.

Cable Car
:Traveling over Paddle Boat lake.

Water Coaster
:water slide ride.

Moon Raker
:Roller coaster ride.

Family Carousel
:horse ride.

Cyclone - The Roller Coaster
:Wooden roller coaster.

River Cave Ride
:It is an dark ride.

Pirate Ship
:The Pirate Ship rocks like a pendulum,

Cruiser
:First Monorail system.

Lazy River Ride
:your raft is transported along a canal.

Toy Train
Eight bogies powered by diesel engine.

Flying Saucer
Ride the Flying Saucer to feel the thrill.

Paddle Boats
:Riding on water.

Striking Cars
:You are seated and strapped up.

Merry Go Round
:Children's ride.

Water Merry Go Round
:boat.

Scaree
:It's the ghost house.

Caterpillar
:A monkey will help you to enjoy this ride.

Magic Carpet
:A beautiful princess is waiting for you.

Bumping Boat
:A floating tube on the water.

Children's Park
:kid's playground.

Eiffel Tower
:Spirit of French Revolution.

Food Park
:food plaza.

Hopping Horse
:Friendly horse.

Mig 21
:Fighting aircraft.

Wet O Wild
:Water Park.

Wave Pool
:wave pool.

Giant Waterfall
:Wet O Wild.

Kid's Pool
:kid's pool.

Beach Cafe
:Restaurant.


How to reach Nicco park,Kolkata


Local buses,Mini buses and metered taxis are readily available from various parts of the city. One can also avail shared auto rickshaws. Train services are available on the Sealdah route. In case of travel by train, your embarkation / disembarkation station is Bidhan Nagar.