Venue, timing, ticket price and online booking and live for Argentina vs Venezuela match at Kolkata

Salt Lake Stadium in Kolkata is ready and set for an important football event between Argentina and Venezuela held on September 2 2011. So book your tickets as early as possible. This article gives you details about ticket booking and ticket price of Argentina vs Venezuela match.


Argentina vs Venezuela match will be a memorable event for all football fans in India. We all watch and read about Messi magic and skills in TV and News papers, but now it's a golden opportunity for all football fans in India to see the live skills and moves of Messi and Argentina on September 2 2011. so don't waste your time, take a ticket as soon as possible.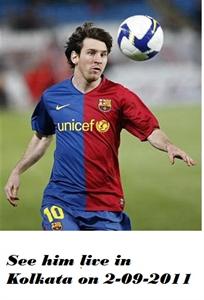 Details about ticket booking and tickets price will be given in this article. The match will start from 7 pm onwards. Tickets are available from low rates to high rates. the match between Argentina and Venezuela is also telecast in Doordarshan, So you can watch the live action from your home also.


Match details of Argentina vs Venezuela at Salt Lake Stadium Kolkata

Venue: Salt Lake Stadium in Kolkata
Date: 2-09-2011
Time: 7 p.m
Match type: Friendly
Main attraction of the match: Lionel Messi


Ticket Price of Argentina vs Venezuela match

Ticket price to see this beautiful match is affordable for all football lovers. Low rates of tickets start from Rs.700. Details are give below

Upper Tier

a)Upper Tier - Rs.700
b)Upper Tier - Rs.1000

Middle Tier

a)Middle Tier - Rs.2470
b)Middle Tier - Rs.3590
c)Middle Tier - Rs.5120

Lower Tier

a)Lower Tier - Rs.1860
b)Lower Tier - Rs.2570

Hospitality Box - Rs.50000


Ticket booking details of Argentina vs Venezuela match

There are two ways for booking the tickets for Argentina vs Venezuela match. One way is to book your tickets through online(website will is provided below) where you can buy ticket using your debit card or credit card. The class and ticket pricing will be given in the website. Online booking will be starting from 30-07-2011(Saturday).

Another way to book your ticket is counter booking. You can buy tickets from counter from 3rd August 2011 onwards. Counter for booking is set on Mohammedan Sporting ground.

Online website for booking the match ticket

http://in.bookmyshow.com/sports/argentina-vs-venezuela/