Story, Cast and Review of Movie 'KAHANI' by Sujoy Ghosh, a movie reflecting West Bengal culture

Recently a thriller hindi movie 'KAHANI' has been released on 9th march, 2012 by Bengali film director Sujoy Ghosh. Read this article to know more about the movie including the name of cinema halls in kolkata where the movie is running, starring, release date etc.


Kolkata based Bengali film-director made a brilliant box office hits thriller movie KAHAANI. 'Paineeta' girl Vidya Balan has played a lead role in this movie. The whole shooting of this movie has been done in 'City of Joy' Kolkata in which the audiences will see it's busy life, 'Luchi Bhaja' and hot 'Chay'(Tea). In many movie before, like Yuva, we got a taste of Kolkata's beauty; but that are a little bit, most of the shooting was done in other states. But, in KAHANI audiences will see all the screen of Kolkata till the end of the movie. Besides 3 actors, all the actors are totally Bengali. During watching this movie, it is seemed that KAHANI is a Bengali tollywood movie, not a bollywood movie. When I hear Bengali pronounciation in a hindi movie, I get so amazing feelings. I am damn sure if you will watch the movie without knowing the story from your friends, you can't predict what is going to happen until you will see the last part of the movie.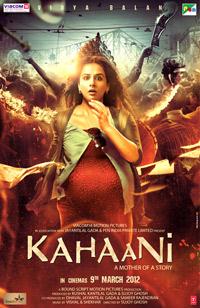 Story of bollywood movie Kahani

At the beginning of the movie, it is seen that an accident has been happened due to a liquid poisoned which is in a bottle and the bottle has been broken in the metro rail. A huge number of passengers have been died for this masquerade accident. After two years, Vidya Balan as Vidya Bagchi , a pregnant lady , came to Kolkata from London and went straight to Kalighat Police Station to find out her missing husband 'Arnav Bagchi'. The sub-inspector of the police station Parambrata Chatterjee as Rana helped Vidya Balan all the time to find her husband. As the movie going on lots of suspense will gather in the movie. At the end of the movie the Vidya Balan killed the terrorist Miland Damji (Indranil Sengupta) . Then we can understand that there doesn't exist Vidya Bagchi or her husband Arnav Bagchi. Her actual husband is Abir Chatterjee who is a IB Agent and has been sent to Kolkata from the IB. Every actor are very good undoubtedly ; specially Vidya Balan and Parambrata Chatterjee, are awesome. I personally like the acting of Saswata Chatterjee who has played a role as a LIC agent named Bob Biswas here. He is a simple looking employee but a serial killer here. 'Jhankar beats','Alaadin' director Sujoy Ghosh made such a film which you must have to love since there didn't release this type of nice thriller movie for the past few years in bollywood, I think. So, don't miss the chance, go to cinema hall and take a thrilling experiences.



Cast and crew of Hindi movie Kahani

Director : Sujoy Ghosh
Music : Vishal-Shekhar
Lyrics : Vishal Dadlani, Sandeep Srivastava, Clinton Cerejo and Anvita Dutt

Starring :
Vidya Balan
Parambrata Chatterjee
Nawazuddin Siddiqui
Indraneil Sengupta
Abir Chatterjee
Saswata Chatterjee
Dhritiman Chatterjee


Watch KAHANI In Cinema Halls in Kolkata

Navina Cinema Hall, New Empire Cinema, Talkie Show House, London Paris, Sonali Cinema Hall, Elite Cinema Hall, Malancha Cinema Hall, Asoka Cinema, Cinemax Cinema, Inox Cinema (Forum/City Centre/swabhumi/Rajarhat/Liluah/Burdwan/Durapore/Siliguri-1,2), Jayanti Cinema Hall, Broadway Multiplex, Hind Fame.


Releasing Date of KAHANI

The film Kahani has already been released on 9 March 2012.