Jnanpith laureate Mahasweta Devi: A wiki biography

Interested to know more about activist Mahasweta Devi from Calcutta? If yes, read this wiki biography of Mahasweta Devi to know more about her educations, awards won, works and films, Bijon Bhattacharya, Nabarun Bhattacharya, Mahasweta Devi against Pinarayi Vijayan and Kerala CPM party, M.M.Mani against Mahasweta Devi and many more!


Popular social activist and author Mahasweta Devi's Kerala visit has been a talk among the people of Kerala state, India. You might be interested to know the important works/visits made by Mahasweta Devi on her recent visit to Kerala. From this Mahasweta Devi wiki biodata, you will get more information regarding this fact.


Personal information of Social activist Mahasweta Devi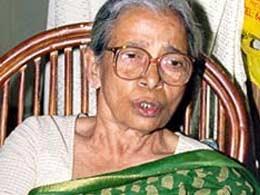 Date of birth of Mahasweta Devi: 14 January 1926


Present age of Mahasweta Devi: 86


Place of birth of Mahasweta Devi: Dhaka


Parents of Mahasweta Devi: Manish Ghatak, Dharitri Devi


Educations: B.A. (Hons) in English, M.A in English


Institutions studied: Vishvabharati University in Santiniketan, Calcutta University


Awards won by Mahasweta Devi: Bengali Sahitya Akademi Award(1979), Padma Shri(1986), Jnanpith Award(1996), Ramon Magsaysay Award(1997), Honoris Causa(1999), Padma Vibhushan(2006), Yashwantrao Chavan National Award(2010), Bangabibhushan(2011), Hall of Fame Lifetime Achievement SAHITYABRAMHA(2012)


Mahasweta Devi works: The Queen of Jhansi, Hajar Churashir Ma, Aranyer Adhikar, Agnigarbha, Choti Munda evam tar Tir, Imaginary Maps, Dhowli, Dust on the Road, Our Non-Veg Cow, Bashai Tudu, Titu Mir, Rudali, Breast Stories, The Book of the Hunter, Ek-kori's Dream, Draupadi, Outcast, Old Women, Till Death Do Us Part, the Why-Why Girl, Dakatey Kahini


Films based on Mahasweta Devi's works: Rudaali, Sunghursh, Hazaar Chaurasi Ki Maa
Mahasweta Devi biography

Mahasweta Devi, was born to Manish Ghatak and Dharitri Devi in Dhaka, the modern day Bangladesh. But after the partition of India, her family relocated to Calcutta and settled there. After completing her Masters in English, Mahasweta Devi started the job of a teacher and journalist. Apart from the teaching and journalist profession, she was also a creative writer. In India, she is popular among the people as an activist who dedicated to the struggles of tribal people. She is also popular for the work related to Shabars and Lodhas. From the above mentioned information, I guess you all got an idea regarding the works done by Mahasweta Devi. She retired as an English lecturer from Calcutta University in the year 1984.

Her literary prizes include India's highest literary award and the second highest civilian award of India Government. When considering her personal life, it's important to note that Mahasweta Devi married Bijon Bhattacharya, the famous Indian theatre as well as film personality from Bengal state, India. But her married life was not so successful. She got divorced from Bijon in the year 1959. Bijon passed away in the year 1978 and their only son Nabarun Bhattacharya is also a famous Bengali writer. Now you may be interested to know the recent visit of Mahasweta Devi in Kerala? As a popular social activist, what was the purpose of her visit? Check out the following points to know the details.


Mahasweta Devi's Kerala visit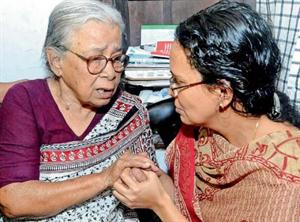 Kerala., the God's own country is a popular tourist destination of India. Earlier this May 2012, Magsaysay award winner and Jnanpith Laureate Mahasweta Devi inaugurated the birth centenary celebrations of Thakazhi Sivasankara Pillai, the popular novelist and short story writer of Kerala. The event was organized by Kerala Sahitya Akademi. On 5 May 2012, there was striking news in Kerala. T. P.Chandrasekharan, the revolutionary Marxist party leader was brutally murdered by a group of people. Following the death of this Marxist party leader, Mahasweta Devi came against CPM for the political criminalization in Kerala. She visited T.P.Chandrasekharan's house to offer condolences to his wife and son.

Later CPM Idukki district secretary M.M.Mani criticized this writer for visiting the house of Chandrasekharan. Even Mahasweta Devi appealed to the film makers, cultural workers and writers in Kerala state to start protest against the murder of the revolutionary Marxist party leader. She also asked Kerala CPM state secretary Pinarayi Vijayan to come out of his mansion to understand the party problems in Kerala. But later she found that her comments were wrong and even wrote a letter to him apologizing for the bad comments. T.P.Chandrasekharan murder case is under investigation. On a dramatic turn around, Mahasweta Devi's Kerala visit and her speech about CPM and their approach on killing opponents has been created a new talk in the state.



Image courtesy: post.jagran.com, telanganagundechappudu.in