Bangamela 2012- Bengali cultural festival 2012 USA- Festival in DC

Are you ready to watch Bangamela 2012 in USA? If yes, you have to wait for on more month as this Bengali cultural festival will be held only by 13 July 2012. Meanwhile read this article about Bangamela 2012 to know more about its host, organizer, films, venue and timing, DHROOPAD, MABA, Bangamela website, Bangamela Facebook, registration fees and schedule, contact informations and many more!


Bangamela 2012, the Bengali cultural festival, will be held at Washington DC, USA from 13 July 2012- 15 July 2012. This is a 3 day cultural festival highlighting authentic Bengali food, seminars, Bengali films, exhibitions, North American Bengali Group Performances, dance, music, drama, recitations; one act play etc. Bangamela 2012 timing will be 10:00 AM- 7:00 PM. This event is organized by DHROOPAD. Have you heard about DHROOPAD? DHROOPAD formed in the year 2000, is a Bengali American Cultural organization of Washington DC Metro area.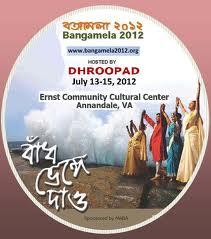 It was in the year 1999 that a few Bengalis from the Tri-state region formed the MABA in order to cater the cultural needs of Bengalis located in the mid America. MABA also known as MID AMERICA BENGALI ASSOCIATION today has gained the reputation of Bengali cultural forum in USA. Bangamela, the annual Bengali cultural festival is organized by MABA. I think it's better to mention here some details of the previous year Bangamela for your convenience.



1st Bangamela, 1999- Louisville, Kentucky: Host - TreenaNeel of Kentucky
2nd Bangamela, 2000- Clarksville, Tennessee: Host - MABA & Bengali Association of Greater Nashville
3rd Bangamela, 2001- St. Louis, Missouri: Host – Punascha
4th Bangamela, 2002- Kansas City, Missouri: Host - Sangam Midwest & The University of Missouri at Kansas City


5th Bangamela, 2003- Nashville, Tennessee: Host- Bengali Association of Greater Nashville
6th Bangamela 2004- Cincinnati Ohio: Host- Agrani of Cincinnati
7th bnagamela 2005- Chicago Illinois: Host- Bengali Association of Greater Chicago
8th bangamela 2006- Louisville Kentucky: Host- Treenaneel of Kentucky
9th banagamela 2007- Memphis Tennessee: Host- Mid South Bengali Association
10th Bangamela 2008- Columbus Ohio: Venue - Capital theatre, Columbus
11th Bangamela 2009- Atlanta Georgia: Venue -The Gwinnett Performing Arts Center
12th bangamela 2010- Nashville Tennessee: Venue -Sheraton Music City Hotel
13th bangamela 2011- Nashville Tennessee: Venue- Nashville Airport Marriott
Bangamela 2012 venue

Ernst Community Cultural Center ,
8333 Little River Turnpike,
Annandale, VA 22003.

Bangamela 2012 Facebook: http://www.facebook.com/events/162504423836640/

Bangamela 2012 website: www.bangamela2012.org

Bangamela 2012 films: Royal Bengal Rahasya, Gosai Baganer Bhoot, Moner Manush, Guerrilla, RUNAWAY ("Udhao"), Rokeya and Sakhawat Memorial School--One Hundred Years After, Duhsamayer Bandhu (A friend in need)


List of artists and celebrities performing at Bangamela 2012

Here is a list of celebrities and artists who will perform at the Bengali
cultural festival 2012 in USA
Bithi Chattopadhyay: Famous poet
Mohiuzzaman Chowdhury: Popular Rabindra Sangeet Singer from Bangladesh
Ferdous Ara: Famous Nazrul singer of Bangladesh


Goutam Ghose: Film director of modern India
Mallika Majumder: Television anchor and actress
Raya Bhattacharya: Television anchor and actress
Natasha Dasgupta: Recitation artist
Shimul Mustafa: Recitation artist
Oishyarya Basu: Recitation artist
Ustad Shahid Parvez Khan: Sitar maestro of Hindustani classical music
Pandit Debojyoti Bose: Multifaceted Sarod Maestro
Ustad Azizul Islam: Famous classical flutist
Shubamita Banerjee:Singer
Saheb Chatterjee: Actor and singer
Rezwana Choudhury Bannya: Singer
Adity Mohsin: Singer
Mohiuzzaman Chowdhury: Singer
Santanu Roy Choudhury: Singer
Debangana Sarkar: Singer
Shahiduzzaman Selim: Actor
Rosey Siddique: Actress


For details regarding schedule, registration fees and Bangamela 2012 hotel, candidates are requested to check Bangamela 2012 official site.

Contact Bangamela 2012

If you have any doubts regarding Bangamela 2012, you are free to contact the following persons:

Dhaka:
Kazi Shameem Mehede
X ENTERTAINMENT,
House # 102/1, Road # 2, Block # A, 5th Floor, Gulshan-1, Dhaka-1212 ,
Email : [email protected]
Cell: +(88) 01712 539616, 01919 539616
Office: (88) 02 9137556- 8126535-8(Ext: 255)
Fax: (88) 02 8121270
Image courtesy: washingtonbanglaradio.com