Biography of Professor Smritikumar Sarkar, new Vice Chancellor of Burdwan University

Professor Smritikumar Sarkar has been appointed as the new VC of Burdwan University (interim) and will take charges from June 16, 2012. Read a biography of Smritikumar Sarkar, his career, social networking profiles, and contact details including email address and mobile number.


Professor Smritikumar Sarkar, the new Vice Chancellor of the University of Burdwan, could have hardly aspired in his childhood to reach such a position someday. A posthumous child fostered in the joint family of his maternal uncle Mr. Birendra Choudhury, his battle with poverty and hardships were enormous. Few thought he can succeed in life, including his guardians and school teachers, and he doubted his abilities himself.

It was a 5 penny book of Swami Vivekananda, The Thoughts of Powers, that instilled the confidence unto the young Smritikumar. Since then, it was his enormous passion for work, enterprise and enthusiasm that did away with all the obstacles, and helped him essay higher and higher flights ever in his life. In this biography of Smritikumar Sarkar, VC of Burdwan University, catch a glimpse of his inspiring life and profile!


Early life and education of Smritikumar Sarkar, BU Vice Chancellor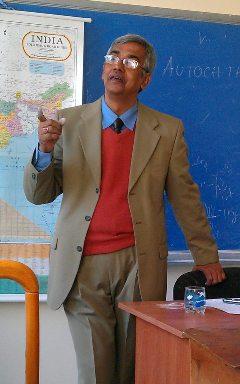 The father of Smritikumar Sarkar, Late Mr. Purnendu Narayan Sarkar, was an outstandingly meritorious student to secure a gold medal in the School Finals. Nevertheless, poverty goaded him unto forsaking studies and take the job of a stationmaster in Bihar. He was married to Mrs. Rama Sarkar and had a girl, Bhakti, until the destiny planned something else. While on-duty, the young Purnendu was shot to death by some hooligans, leaving the family in deep waters, even before the birth of Smritikumar Sarkar. Fortunately, his maternal uncle sheltered the widow with her two kids, and hardships came a-flowing thereafter.

The schooling of Smritkumar Sarkar was done from the local Belghoria High School, followed by an Honors degree in History from Brahmananda Keshab Chandra (BKC) College, Kolkata. As Professor Sarkar himself recollected, his life began to change from the day when the shy skinny boy stepped into what has been a maker of Bengali renaissance – the University of Calcutta. Seeing some big names in the faculty like Professor Binoy Bhushan Chowdhury, Professor Amalesh Tripathi and Professor Tapan Raychoudhury, he decided to go for Economic History, and never required to look back again. He stood First Class Third (1973) and later did his Ph D (1992) from the same university, under Professor B. B. Chowdhury.


The Academic Career of Smritikumar Sarkar: Retrieving the paradigm of indigenous technologies

Beginning his life with a job in United Bank of India, the career of Smritikumar Sarkar shifted to academics with his appointment as a lecturer in ABN Seal College, Coochbehar (1977). Later he moved on to BKC College, where he was once a student. In the early 90s, he joined the University of Kalyani, where he has been teaching so far until his recent appointment as the new Vice Chancellor of the University of Burdwan. He also received National Loan Scholarship, DPI Merit Scholarship, UGC Junior Research Fellowship & UGC Teacher Fellowship, as a recognition of his works. With over three decades' experience of working on the unorganized sector of Indian economy, the specialization of Professor Smritkumar Sarkar is Indian artisans, her blacksmith tribes and traditional indigenous technologies.

Professor Smritikumar Sarkar was also awarded major research projects by ICHR, NISTADS, INSA and UGC, served as a visiting fellow to Zakir Hussain Centre, Jawaharlal Nehru University. Professor Sarkar also acted as a resource person to the Royal Institute of Technology, Sweden; Dhaka University, Bangladesh; Voice America Radio, Washington; Planning Commission of India; UGC; IGNOU, The Asiatic Society, Calcutta; West Bengal College Service Commission; Public Service Commissions of Punjab and Bihar; and several other universities across the country.

In 2012, Professor Smritikumar Sarkar held the prestigious position of the ICCR Chair Professor to the Yerevan State University, Armenia, on Government of India deputation.

He has published countless chapters and papers contributed in several international and national journals, daily newspapers and regional volumes; presented papers in several international and national seminars, and refresher course lectures.


Family life of Professor Smritikumar Sarkar and personal information

Professor Smritikumar Sarkar is out and out a family man, still living at the same suburban locality of Belghoria where he has been living for nearly 60 years. He lives with his mother, Mrs. Rama Sarkar, his wife Mrs. Aditi Sarkar (an Associate Professor of Sanskrit in the University of Burdwan), and his two sons.

You can subscribe to his public updates from the Facebook profile of Smritikumar Sarkar, VC of Burdwan, or send him at email at smritikumar.karigar at gmail dot com.

The mobile number of Prof. Smritikumar Sarkar will not be published online due to privacy reasons. If you want to contact him on his mobile or landline telephone, please post a comment below to let us know about yourself and we will get back to you with all details. We regret the inconveniences but this to make sure the personal life of Prof. Smritkumar Sarkar is not hampered.