Story, Cast and Review of Bengali Movie Muktodhara

The long awaited Bengali film Muktodhara finally released on 3rd August, 2012. It is basically a movie where you can see that the real lives turns in to reel lives. The ex-convict Nigel Akara leads in the movie. I am writing here the review of the Bengali movie Muktodhara. Read this article to know more about all the relevant information about this movie.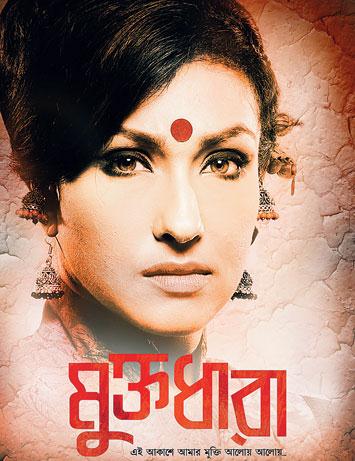 Finally the Bengali movie Muktodhara has been released on last Friday after a long waiting. This movie is based on real life. It is seen that in Tollywood there is always a tendency to copy story from South Indian Movie. But in last 1-2 years lots of movies have been made not a copy-cat from South, but a real own Tollywood-made movies. Some of them are based on real life incidents. In the month of April, 2012 the bengali film Atta Aater Bonga Local which had been made based on real incident of a murder in North Barasat.

There are two directors of the film Muktodhara - Shiboprosad Mukherjee and Nandita Roy. Muktodhara is such a bengali film where real life is being shown in reel life. The story of Bengali film Muktodhara is like that-

It is basically a movie about a criminal and his reformation. The criminal Yusuf Mohammad (Nigel Akara) and other some hardcore criminals are in a infamous jail. There is a also a famous dancer (Alokananda Roy) who acts here as a catalyst and goes to a that jail that is filled with lots of hardcore prisoners whose collective list of crime is too large. She gives lots of efforts and achieves the impossible. In that jail, infront of the hardcore criminals she mounts Rabindranath Tagore's dance-drama 'Balmiki Protibha'. As we all know that the very notorious robber Ratnakar had been turned into famous and totally a changed character Balmiki with the touch of a saint.

In this movie there is a real ex-convict Nigel Akara and a real famous dancer Alokanando Roy. The presence of Nigel Akara as Yusuf Mohammad Khan is all over the movie and infact he makes a lead role in the movie. Rituparna Sengupto as the dancer Niharika Chatterjee acts too good undoubtedly. Bratya Basu who is a criminal lawyer-husband of Niharika really absorbs all the attraction of the audiences. There are some other powerful character like Debshankar Halder as the I.G. of police, Kharaj Mukherjee as a foul-mouthed union leader of the police force in Dum Dum jail. The list will be too large.

In one sentence the film Muktodhara can be described as a movie where the reality and fiction come together seamlessly.



Name of cinema halls in Kolkata where the Bengali movie Muktodhara is running on


Bijoya Cinema Hall, Jayanti Cinema Hall, Ajanta Cinema Hall, Ragini Cinema, Inox Cinema Hall, Metro Cinema Hall, Roxy Cinema Hall, Fame Cinema Hall(Hiland Park), Mini Sushma Cinemas, PVR Cinemas, Fame Cinema Hall(South City), Basusree Cinema Hal, Basusree Cinema Hal, Bioscope Multiplex, 89 Cinema, Priya Cinema, : Inox Swabhumi, Malancha Cinema Hall,




Cast and crew of Bengali movie Muktodhara


Director: Nandita Roy and Shiboprosad Mukherjee
Producer: Bachchu Biswas, Atanu Roy Chowdhury
BannerProgressive Pictures
Music Director: Surojit Chatterjee and Joy Sarkar
Story and Screenplay : Nandira Roy
Dialogue : Shibaprasad Mukherjee




Star Cast of Bangla movie Muktodhara


Nigel Akkara
Rituparna Sengupta
Bratya Basu
Debshankar Halder
Suchitra Chakaraborty
Kharaj Mukherjee
Arun Mukherjee
Biswajit Chakraborty


Total running time of Bengali movie Muktodhara: 2hrs 45 mins

Release date of Bengali movie Muktodhara: On August3, 2012