Chitrangada upcoming Bengali (bangla) movie star cast, crew, story, plot, music and preview

Director and writer Rituparno Ghosh's upcoming Bengali movie Chitrangada released in this august. This movie based on gay people. Are you interested in this movie? Here you can find all information like cast and crew, story, music, review.


Chitrangada is an upcoming Bengali movie based on gay people. National award winner Rituporno Ghosh directed and writes this movie as well as he plays the main role of this movie. This movie based on gay people and their problems faced in daily life.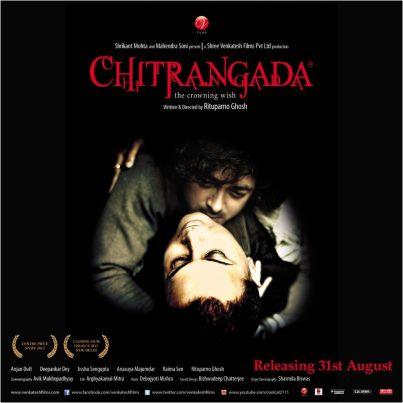 Cast And Crew of Bengali movie Chitrangada:

Director and writer: Rituparno Ghosh
Editor: Arghyakamal Mitra
Cinematographer: Abhik Mukhopadhyay
Music director: Debojyoti Mishra
Star cast:
Rituparno Ghosh as Rudra
Jishu Sengupta as Partha
Raima Sen
Dipankar Roy
Anjan Dutta
Koushik Bandopadhyay
Anasuya majumdar


Plot and Story of Bengali movie Chitrangada:

In this movie Chitrangada main character played by Rituporno Ghosh as Rudra. Rudra is a student of engineering but he always wanted to be a choreographer. He studied engineering to fulfill his father dream. Suddenly he gets an opportunity to play a role in a drama Chitrangada on Rabindranath Tagore's 150th anniversary. Rudra played a role of madan in Chitrangada. Where he meet the Partho played by Jishu Sengupta. Partho joins rudra's group as a percussionist. Rudra and Partho closed to each other during the drama. They decided to adopt a child but as per rules of India two men cannot adopted a child. To solve this problem Rudra decided to consider him as a woman. As a result a conflict starts and nervous breakdown attacks rudra.


Music of this movie Chitrangada:

Music of this movie is good.


Preview of Bengali movie Chitrangada:

The director and actor rituporno ghosh is a mature film maker. The movie is based on a different field. It shows how those people suffering in their daily life. Hope this movie will cover a good market.

Chitrangada released in 31 august 2012.