Sunil Gangopadhyay Profile Family Life & Education - Poet & Novelist Sunil Ganguly Career & Wiki.

Sunil Gagopadhyay, the famous bengali writer, has passed away today. Read this obituary of Sunil Gagopadhyay's short biography, his literary career, books and more. Discover unknown facets of the life of Sunil Gagopadhyay.


One of the famous and wellknown bengali writer, Sahitya Academy's President, Sunil Gagopadhyay died on 23rd October, 2012 following a massive heart attack. He was 78.

A short biography about this eminent literature :


Parents, family & Early life of Sunil Gangopadhyay


Sunil Gagopadhyay was born in Faridpur, in what is now in Bangladesh. On 7th September,1934. His father was Kalipada Gagopadhyay and his mother was Mira Gagopadhyay.


Education and qualification of Sunil Gangopadhyay


Sunil Gagopadhyay studied at the Surendranath College, Motijeel College, City College, kolkata. He obtained his Master Degree from Calcutta University in1954.


Personal Life of Sunil Gangopadhyay


On February 20, 1976 he married with Swati Bandopadhyay. Souvik Gagopadhyay is their only song. After marriage Sunil Gagopadhyay started to live in 24, Mandeville Gardens. It was his permanent address.


Literature & Works of Sunil Gangopadhyay


'Atmaprakash' was his first novel, and it was also published in the magazine 'Desh' (1965). After that he wrote many poems, novels, drama etc.
He became the editor of 'Kitribas', a seminal poetry magazine. He started writing for various publications of 'Ananda Bazar Group'.
As a writer Sunil Gagopadhyay had a unique style. He wrote over 200 books. His famous creation is ' Nikhilesh and Neera series' poems.
His some wellknown fictions are 'Aranyer Din-Ratri', 'Ekaa ebong Koyekjon' etc. 'Sei Somoy' his one of the most popular historical fiction, which was received 'Sahitya Academy Award' in 1985. And it also the was the best sailing books after its first publication. Sunil Gagopadhyay's other famous fictions are 'Purbo-Paschim', 'Pratham Alo' etc.
He wrote many children fictions, travelogues, short stories, novels and dramas etc. He wrote many of his articles by hi pen-names - 'Nil Lohit', 'Sanatan Pathak', 'Nil Upadhyay'.
Raja Roy Chowdhory, a character, created by Sunil Gagopadhyay in his adventure fiction 'Kakababu'. This essay about Mr. Roy Chowdhory, Santu, young adult nephew of Mr. Roy Chowdhory and Santu's friend 'Jojo', how they solved many dangerous problem. Sunil Gagopadhyay wrote 35 novels of this popular series. Many of this published in 'Anandamela' magazine.
His 'Arjun Pratidwandi' was filmed by Satyajit Roy.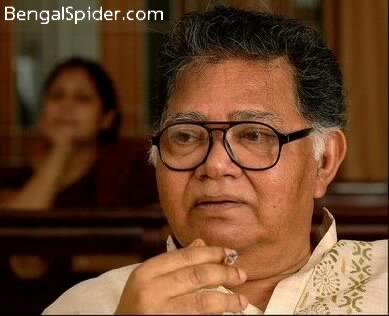 Awards & honour of Sunil Gangopadhyay


'Ananda Puraskar' in 1972.
'Bankim Puraskar' in 1982.
'Sahitya Academy Award' in 1985,
'Ananda Puraskar' in 1989. (second time)
'Sheriff of Kolkata' in 2002.
'Saraswati Samman' in 2004.
'The Hindu Literature Prize' in 2011
'Sera Bangali' Lifetime Achievement, awarded by Star Ananda in 2012.