Biometric scan will be introduced in WBJEE from 2013

The West Bengal Joint Entrance Examination Board is planning to introduce biometric test in the examination from 2013. The purpose of introducing this test in WBJEE to prevent fraud candidates. Read this article to know more about the biometric testin WBJEE.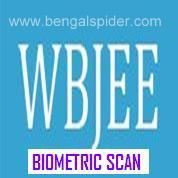 The West Bengal Joint Entrance Examination (WBJEE) Board has decided to introduce biometric scan from the next year. Using this test, the board will record and match the biometric data of all JEE examinees to prevent fraud in the joint entrance examination. Now the question is what is biometric scan? Biometric is the science and technology process to measure and analyze biological data statistically. In case of candidates appeared for joint entrance examination, their left thumb impression will be recorded at the time of examination that was scheduled for April 21, 2013. The candidates whose biometric data match would be granted admission only.


In order to introduce the biometric scan in WBJEE, the chairman of WBJEE board, Mr. Bhaskar Gupta said that in the existing as thousands of students appear, therefore it is not possible to detect suspicious for an invigilator. This has prompted to introduce biometric scan. In previous years, it is seen that many of candidates had been arrested for writing JEE impersonating applicants.


Till the present year, the JEE board recorded the left thumb impression of an examinees using ink at the time of submission of application form and also at the test centre during the examination. If one invigilator was suspicious of any candidate, then he/she might ask the JEE board to match the fingerprints collected after the test. In that case, the board uses the help of forensic experts to do so. The whole process is very costly and needs much time. Now the biometric scan will make the procedure more stringent. From the next year, during the online form submission each student's biometric data might be recorded either at the bank's branches when they remit the application fees or by scanning inked thumb impression.


Undoubtedly this test will make the joint entrance examination more sound and complete and the several colleges and universities will able to admit genuine candidates through counselling in their institution. What's your say about it? Give your comments here.