Diwali 2012 in India- Kolkata's festival of light

Interested to see Diwali celebrations in Kolkata? If yes, this is the correct time for you. Here you will get informations like Diwali 2012 date, Diwali shopping centres in Kolkata, best hotels of Kolkata, send Diwali diyas to Kolkata, Diwali diyas price, Diwali melas in Kolkata, rangoli designs, Diwali gift items and sweets in Kolkata and many more!


Diwali also known as Deepavali, the festival of lights is celebrated for the year 2012 in India from 13 November. From the word 'deepavali', deep means light and avail means row. Whenever we hear the word deepavali, the fact that comes to our mind is regarding festival of lights. The lighting of lamps everywhere during this festival represents the row of light. Legend reveals that this festival is celebrating Lord Rama's return after 14 years in exile. This festival signifies the victory of good over evil and usually the celebrations lasts for 3-5 days. Diwali, considered to be one of the most prominent religious festival of india, is celebrated by Hindus.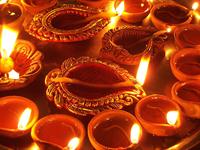 In India, Diwali is celebrated in places like Assam, Bihar, Delhi, Punjab, Gujarat, Himachal Pradesh, Jammu and Kashmir, Rajasthan, Uttar Pradesh, Orissa and West Bengal. During Deepavali, divali gifts are offered to loved ones as an expression of best wishes. You might be interested to know more about Diwali celebrations in Kolkata, capital of West Bengal state in India. During diwali festival in Bengal, goddess kali is honoured. Here the people celebrates Diwali with great enthusiasm. Let's have a look through how the people of Kolkata celebrates Diwali.


Diwali 2012 celebrations in Kolkata
If you wish to see Diwali celebrations in india, try to visit Kolkata the cultural capital of India. Before the first Diwali day, Bengalis clean their house and business premises thoroughly. But on the first day of Diwali, it is customary to buy ornaments and utensils. If you are visiting Kolkata during this festival, you can see the entrance way to their homes(whether it is a hut or mansion) are made beautiful using LED lights, rangoli designs flower garlands, wall hangings, bells etc to welcome the goddess of prosperity. If you are a creative person, you can make floating rangoli for festive decorations. During this festival, small oil lamps(diyas) are lighted every night, which symbolizes ones inner light that brings about inner peace and fights off any darkness. On the festival day, Kolkata city will be beautifully decorated with colorful market stalls and pandals, brightly lit streets and buildings. But the main attraction will be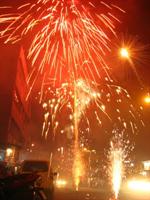 deepavali fireworks and crackers. The 3 parks in Kolkata namely Energy Education Park, Esplanade and Swabhumi Park will be the prime spots where you can watch Diwali firework displays. The number of tourists to Kolkata is increasing during this festival time and hotels in Kolkata will surely enjoy the busiest period of this Diwali.

If you are looking for Kolkata hotels that provide good accommodation and food during this festival, try the best hotels of Kolkata. As the festival is closely approaching us, people are very busy sending Diwali Diyas that consists of Diwali chocolates, Diwali diya set, ganesha with diya, handicrafted Diwali diyas, designer festive diyas, handicrafted shubh Diwali pooja diya set, handicrafted colorful Diwali puja diya set, handicrafted colorful Diwali puja diya set, studded lakshmi ganesha diya set and many more items to their relatives and friends residing in different parts of India. Eventhough Diwali diyas price ranges from Rs 500 – Rs 3000, people of Bengal are busy sending them to their relatives or friends all over India to remind them of the love and affection that they feel for them. They even give Diwali gifts that includes home and kitchen items, gold, flowers, electronics, dry fruits, decorative gifts, crystal gifts, accessories, chocolates, cakes, candles, art and craft items, toys, watches, home furnishing items, office accessories etc to their friends, family members or even relatives. Not only this Diwali gifts, but also the Diwali sweets that includes rice payasam, rasgulla, pumpkin halwa, Mysore pak, pedas, laddos, carrot halwa and many more food items have an important place during this festival in Kolkata. Diwali festival is a time which Bengalis consider auspicious for shopping and starting of any new projects. Diwali shopping for Bengalis include buying of new ornaments, clothes and utensils. In Kolkata, Diwali melas are commonly seen during this festival. Recently Diwali Bazaar Kolkata, a pre Diwali lifestyle exhibition cum sale organized by Fair Centre was held at Calcutta Ice Rink from 2 November 2012- 7 November 2012. Now get ready to visit Kolkata to welcome Diwali 2012.



Image courtesy: brotherhoodofthieves.com, proudindian-purvi.blogspot.com