WBJEE Board online MBBS counseling from 2013-14 session

Looking for information about JEE MBBS counselling? from the next year WBJEE board will conduct an online counselling for MBBS courses to take admission in various medical colleges of West Bengal. The candidates will have to appear for a common entrance test and based on the rank in this test, state JEE board will counsel to admit students in the MBBS colleges of WB.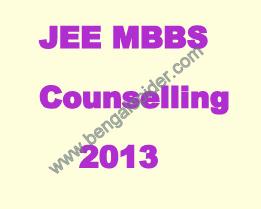 The West Bengal Joint Entrance (WBJEE) board will conduct the online counseling to admit students in the medical colleges based on the ranks in National Eligibility Entrance Test(NEET). The decision was made on 31st October at a meeting by WBJEE board together with the representatives of the higher secondary education and the health departments. The Medical Council of India (MCI) had earlier announced to hold a single entrance test for MBBS courses across the country to make free the students from the hassle of appearing multiple entrance test. The state government after saying 'No' for the common entrance on October 8, 2012, tried to find a way to conduct online counseling for admission to 11 medical colleges in the state.

The higher education department of West Bengal asked the state joint entrance board which hold online counseling to admit candidates to engineering students this year, whether they could able to conduct counseling for medical courses as well or not. The JEE board showed green signal that means they would arrange online counseling for both medical and engineering courses from 2013-14 session. According to an official of the state higher education department, the JEE board has the expertise for holding such counseling and hence they have been asked to do so. Bhaskar Gupta, the Chairman of WBJEE told that if the state government gave them the responsibility, they are ready to conduct online counseling for MBBS courses. According to the officials of state higher education department, CBSE with whom the board will liaise, will conduct the common entrance test on May 5, 2013 to admit the students. There will be two types of candidates in the common entrance test- domicile and non-domicile whom the board will counsel. Out of the total seats, 85 percents in the West Bengal medical colleges will be reserved for students who have ranked in the entrance test and belong to this state. The rest of total seats will be reserved for the outside students.

One very good news for all students belonging to WB who are willing to appear for common entrance examination in next year! The question papers for common joint entrance test would be set in Bengali also apart from English and Hindi. The medical council of India has shown green signal about it.

Read one related article Biometric scan will be introduced in WBJEE from 2013.