A brief biography of legend Haradhan Banerjee (jem of the tollywood film industry)

Haradhan Banerjee was the legend of our tollywood film industry. His contribution to the industry is very valuable to us. He was a precious actor of the tollywood. Even he played many films of bollywood also. He played many roles in popular mega serials too. His powerful performances increased the films' value. In this article, we can know about his life. So, let read the article.


Life history of Haradhan Banerjee

He was born on 6th November, 1926 in Bangladesh. He died on 5th January, 2013.


Education and works done by Haradhan Banerjee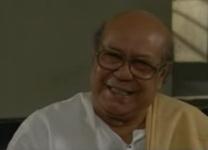 In childhood, he passed matriculation exam from Kushthiya Municipal School. Then he passed IA exam from City College under the University Of Kolkata. Then he worked at Gun & Shell Company. After few years he joined into an insurance company.


Haradhan Banerjee acting career

He started his film career in 1948 by the film "Debdut". He played many films of the great director Satyajit Ray. Haradhan Banerjee played the role of Sidhu jyatha of the feluda series films (Gorosthaney Sabdhan, 2010;Kailashe Kelenkari, 2008). Without the role of Sidhu Jyatha he also acted the feluda series films like "Sonar Kella", "Joi Baba Felunath ". Apart from these he also acted in the films Jadi Jantem, Asati, Chorus, Devi Chaudhurani, Kori Diye Kinlam, Borobou, Sonar Khancha etc. He also acted in the Hindi films like "Parineeta","Barfi". He got National Film Award for Best Supporting Actor [2005] because of his excellent performance. He gives his contribution by his acting also in mega serials like Ogo Bondhu Sundori (star jalsa), Bhasa (star jalsa). He also acted in stage with famous actors like Chhobi Biswas, Utpal Dutta etc.
So, his contributed to the film industry and television industry a lot by his acting power.


Death of Haradhan Banerjee

We lost this legend. He was suffering in pneumonia for some days. In 5th January, 2013, we lost him. The film industry also lost a great actor.