An easymade breakfast recipe - Cherry Chicken Salad Sandwich

Do you like to eat sandwich? It is an easy made recipe. It is preferred as breakfast. It is easy digestible. It contains many valuable food contents. It is full of nutrients. In this article you can read one type of sandwich recipe. It is little bit different from general sandwich recipe. Let read this recipe.


Here, we can see the recipe of this Cherry Chicken Salad Sandwich.

Ingredients of this recipe

2 cups cubed cooked chicken
1/2 cup dried tart cherries
3 green onions, sliced
1/2 cup mayonnaise
1/4 cup plain yogurt
1 tablespoon lemon juice
Freshly ground black pepper, to taste
Lettuce leaves
Chopped fresh parsley
2 to 4 croissants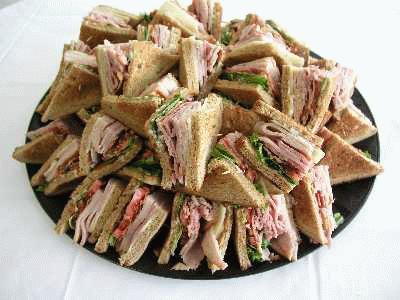 Recipe of Cherry Chicken Salad Sandwich

At first you have to combine chicken, cherries and onions in a large bowl, mix it. Then combine mayonnaise, yogurt, lemon juice and pepper in another bowl; pour over chicken mixture. Mix gently. Then cover it & insert it into refrigerator for 1 to 2 hours.
Spoon chicken salad onto sliced croissants; top with lettuce.For garnishing you can use parsley. Now the sandwiches are ready to serve.
Make 2 to 4 servings, depending on size of croissants.

You can make this recipe for guests also. Specially children will like this delicious breakfast. Try this recipe at home & write comments on it.