Dutta Vs Dutta – an Anjan Dutta film, cast & crew, story line, music etc.

Are you fond of a different types Bengali films? Then you must be fan of the famous singer-actor-director Anjan Dutta. Anjan Dutta gives many different types of films to the tollywood film industry. There is a standard film of him according to his biography named "Dutta Vs Dutta" is described in this article. It is based on his personal life. He made it as his semi-autobiographical film. We can know its cast & crew, story plot, music etc. from this article.


Star cast of Bengali movie Dutta Vs Dutta

Anjan Dutta as Biren Dutta
Ronodeep Bose as Ronodeep Dutta
Rita Koyral as Maya Dutta
Arpita Chatterjee as Cheena
Koushik Sen as Khoka
Srijit Mukherjee as Monty
Parno Mitra as Nandita
Shankar Chakrabarty as Ghenti Kaku


Crew of Bengali movie Dutta Vs Dutta

Director – Anjan Dutta
Music Director – Neel Dutta
Editor – Arghyakamal Mitra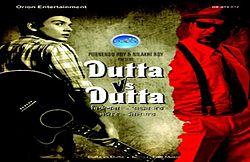 Story line and plot of Bengali film Dutta Vs Dutta

It is a semi-autographical film of Anjan Dutta. Biren Dutta is a layer. But he is not a successful layer. He wanted to be a barrister. But he could not be able. His wife, Maya is an alcoholic woman can play piano very well. They have two children – Cheena & Ronodeep. Biren Dutta alwas says – "My family is my church and my children are my Gods". Cheena is a graduate girl. She wanted to marry Ghenti Kaku whose age is same as his father. But this Ghenti Kaku made affair with Maya also. After knowing that Cheena wanted to marry Ghenti, Biren Dutta got angry. He wanted to kill Ghenti. So he rented Khoka(the Naxalite)to kill Ghenti. But there was a twist. Cheena married Khoka without his father's permission. This was another shock to Biren Dutta. Rono's grandfather returned from a religion home & opened a music school named "Dutta Music & Melodies". He collected some students for this school. His daughter-in-law helped him by playing piano. But suddenly he went somewhere. In other side, Rono wants to be an actor but his father wanted to fulfill his dream by his son Rono. But Rono didn't want to be a barrister. Biren Dutta had an affair with his client, Runu. One day Cheena & Khoka came back to tell them they will go Hong Kong for Khoka's job. Khoka became an Engineer. Biren Dutta Broke in emotion after knowing this news. Biren Dutta had cerebral attack after spending three days in Jail. Rono loves Nandita. At the end of this film we can see a happy end.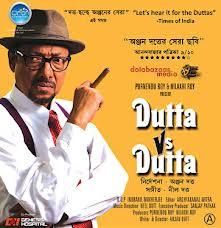 Music of Bengali film Dutta Vs Dutta

Neel Dutta is music director of this film. There are many famous singers on this film like Anjan Dutta, Rupankar, Somalata. There are many rabindrasangeet, an English song also.


Review of Bengali film Dutta Vs Dutta

It is very interesting film. We can see join family story in this film. Anjan Dutta made it perfectly.