Vasan Eye Care Hospital Review & branches in Chennai, Tamilnadu

This article provides you a brief review of Vasan Eye care hospital. In this article you get to know about the facilities and treatments offered in Vasan Eye care and the customer care no. and contact details of Vasan Eye care branches in Chennai.


Vasan Eye Care Hospital Review

Vasan Eye Care hospital is one of the newly emerged Eye hospital which has become popular world wide. I took one of my relative to Vasan Eye care hospital in Valsaravakkam branch for an eye check up. As their advertisement says the words "Naanga Irukom" i.e., we are there in English they are really good in service. The fees was very nominal and the care shown by the doctors and the staffs are very good. We went there without any prior appointment and thought we have to wait for a long time but we were there only for an hour or so. They just checked the eyes then dilating drops was given and glasses were prescribed. The hospitality and the way they serve the patients and the patient attenders are really good. The hospital is very cleanly maintained with good hygiene. The visitors are served with masala tea and mineral water. The patients are given kits with all necessary requirements. They offer treatments for eye diseases such as Cataracts, Cornea, Glaucoma, Retina, Paediatric Opthalmology and squints , Octoplasty, Uveitis, Neuro Opthalmology, Vision rehabilitation, computer vision syndrome clinic, contact lenses and optical services. The vasan eye care call centre no. of is 044 43400000 which you can contact for help.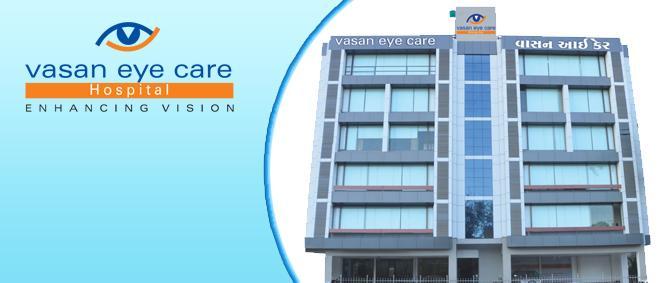 Facilities available in Vasan eye Care
Separate divisions for each speciality

World-class service systems and trained service personnel

State-of-the-art operation theatres

Post-Op lounge with recliners/beds

More than ten diagnostic stations per facility

Advanced eye care equipments

Complete range of optical frames & lenses

Exclusive children's eye care

24/7 pharmacy

Ambulance services
Vasan eye Care branches and contact details in Chennai

Vasan Eye Care Corporate office in Chennai
Vasan Healthcare Private Limited,
No. 70, Dr. Radhakrishnan Salai,
"Lancor West Minster", IV Floor,
Mylapore, Chennai – 600 004,
Tamil Nadu, India.
Tel : 044 43400950
Fax : 044 43400998

Vasan Eye Care, Adyar branch in Chennai
No. 115/1, Kamaraj Avenue
2nd Street , Adyar,
Chennai - 600 020
Tel : 044 - 43400750
Fax : 044 - 43400799
Consultation Timings
Week Days : 9.00 am to 8.00 pm
Sundays : 9.00 am to 12.00 pm

Vasan Eye Care, Anna Nagar East branch in Chennai
M-77. 3rd Avenue (Opp. K4Police Station),
Anna Nagar East,
Chennai – 600 102
Tel : 044 – 43400310
Fax : 044 - 42693505
Consultation Timings
Week Days : 8.30 am to 8.00 pm
Sundays : 9.00 am to 1.00 pm

Vasan Eye Care, Chrompet branch in Chennai
No. 201, GST Road, Opp. to Chrompet Bus Stop
Chrompet, Chennai - 600 044
Tel : 044 – 43400510
Fax : 044 - 42877434
Consultation Timings
Week Days : 8.00 am to 8.00 pm
Sundays : 9.00 am to 1.00 pm

Vasan Eye Care, Chetpet branch in Chennai
No. 5, Nichols Road
Chetpet, Chennai - 600 031
Tel : 044 – 43400200
Fax : 044 - 43400210
Consultation Timings
Week Days : 9.00 am to 6.00 pm
Sundays : 9.00 am to 1.00 pm

Vasan Eye Care, Kilpauk branch in Chennai
No. 190, Poonamalle High Road,
Opp. to Nehru Park, Next to Sangam Cinemas,
Chennai - 600 084
Tel : 044 - 43400810
Fax : 044 - 43400888
Consultation Timings
Week Days : 8.30 am to 8.30 pm
Sundays : 9.00 am to 1.30 pm

Vasan Eye Care, Madipakkam branch in Chennai
No. 683/5, Mahalingam Street,
Near Ayyappan Koil Bus Stop, Madipakkam,
Chennai – 600 091
Tel : 044 - 43400910
Fax : 044 - 43400919
Consultation Timings
Week Days : 9.00 am to 8.00 pm
Sundays : 9.00 am to 1.00 pm

Vasan Eye Care, Neelankarai branch in Chennai
No. 20, Thamirabarani Tower,
East Coast Road, Kapaleeswaren Nagar,
Neelankarai, Chennai - 600 041
Tel : 044 – 30959400
Consultation Timings
Week Days : 10.00 am to 6.30 pm
Sundays : 9.00 am to 1.00 pm

Vasan Eye Care, Old Washermenpet branch in Chennai
No. 976, T.H.Road, Old Washermenpet,
Opp to Nirmala Silks,
Chennai - 600 021
Tel : 044 – 43400660
Fax : 044 - 43400666
Consultation Timings
Week Days : 9.00 am to 8.00 pm
Sundays : 9.00 am to 1.00 pm

Vasan Eye Care, Perambur branch in Chennai
No. 149, Paper Mills Road,
Near to Agaram Junction Road,
Peravallur, Chennai - 600 082
Tel : 044 - 43400610 / 611
Fax : 044 - 43400640
Consultation Timings
Week Days : 9.00 am to 8.00 pm
Sundays : 9.00 am to 1.00 pm

Vasan Eye Care, Poonamallee branch in Chennai
No. 780, Trunk Road,
Poonamallee, Chennai - 600 056
Consultation Timings
Week Days : 10.00 am to 5.00 pm
Sundays : 9.00 am to 1.00 pm

Vasan Eye Care, Saidapet branch in Chennai
No. 383, Anna Salai,
Saidapet, Chennai – 600 015
Tel : 044 - 39890000
Fax : 044 - 39922788
Consultation Timings
Week Days : 8.00 am to 8.00 pm
Sundays : 9.00 am to 1.00 pm

Vasan Eye Care, Triplicane branch in Chennai
No. 100/101, Triplicane High Road,
Triplicane,
Chennai - 600 005
Consultation Timings
Week Days : 9.00 am to 8.00 pm
Sundays : 9.00 am to 1.00 pm

Vasan Eye Care, TTK Road branch in Chennai
No. 310, TTK Road,
Alwarpet, Chennai - 600 018
Tel : 044 - 43498000
Fax : 044 - 43498049
Consultation Timings
Week Days : 8.30 am to 9.00 pm
Sundays : 9.00 am to 1.00 pm

Vasan Eye Care, Vadapalani branch in Chennai
No. 154/2, Arcot Road,
Opp. HCL, Vadapalani,
Chennai - 600 026
Tel : 044 – 43400710
Fax : 044 - 42136915
Consultation Timings
Week Days : 9.00 am to 9.00 pm
Sundays : 9.00 am to 1.00 pm

Vasan Eye Care, Valasaravakkam branch in Chennai
No. 5o, Arcot Road,
Valasaravakkam,
Chennai - 600 087
Tel : 044 – 43400000
Fax : 044 - 33701300
Consultation Timings
Week Days : 9.00 am to 8.00 pm
Sundays : 9.00 am to 1.00 pm