Vasan Dental Care Chennai

Vasan Dental Care after their success in providing perfect eye care for the people of Chennai has estabilished their next unit in health and fitness. Vasan Dental Care have opened their various branches across the city of Chennai.


Vasan Dental Care, Chennai: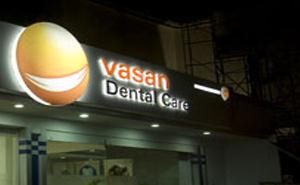 Vasan Dental care unit is established in Chennai for the first time, after their success in establishing their eye care unit. They provide perfect oral and dental care from children to adult to old aged people. People from middle class to high class get better oral health care in an efficient way. A complete clean and healthier way, with minimal pain making your smile more and more precious.


About Vasan Dental Care:

Vasan eye care after their success in visionary part across Chennai, they have established Dental Care unit specially for the welfare of the people in Chennai. Their mission is to provide oral health care with well equipped instruments and doctors with good infra structure and affordable cost. To give oral care and treatment with minimal pain for patients and to keep your smile precious all day.

Their highest value is to provide
Care
Comfort
Cleanliness
Concern
Respect and
Preventive Dentistry

Dr. A.M.Arun is the chairman and Managing director of Vasan health care management team for the state Tamilnadu. He has been awarded Emerging Entrepreneur Award for his excellence towards bringing the hospital in an excellent way throughout Chennai and other parts of Tamilnadu.


Specialties And Expertise Treatments in Vasan Dental Care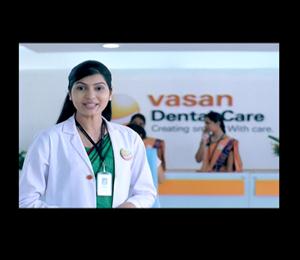 Vasan dental care provides you numerous treatments with latest and experienced techniques. They have expertise doctors and friendly staffs who takes care of the patients in an excellent way. They have high quality and specialized equipments with latest computer technologies. From children to adult they give clean, special and painless care.

Periodontics :
Treating your gums, pain, infections and removing unwanted dirt in the gums and keeping them healthy.
Giving treatments for gum problems.
Infections due to gum.
Cleaning the gums.
Giving right antibiotics for gum problems.

Restorative & Esthetic Dentistry & Endodontics :
Treating your decayed or infected teeth, without pain and any side effects. Filling the decayed tooth cleaning it effectively and providing whitening tooth tretments..
Giving treatments for preventing teeth from decaying.
Preserving the teeth.
Cleaning and filling the holes.
Whitening the teeth.

Implantology :
Jaw treatments should be done carefully, they have experienced doctors to provide tretments regarding jaws and tooth fixing.
Giving treatment for missing tooth.
Screwing them replacing the tooth.
Repairing the jaws.

Orthodontics :
Your smile is very precious, to keep your smile sweet and cute in your face forever. They provide world class tretments for fixing braces and aligning your tooth.
Aligning the tooth.
Putting braces.
Aligning the teeth.
Smile designing.
Adult care.

Apart from these treatments they are specialized in the following treatments:
Other than this they provide prevention of infection, decaying of tooth and world class laser based treatments in dental career. Laser treatments give painless, perfect and easy treatment for your tooth, so you can have a painfree, fearless treatments.
Preventive care.
Laser Treatments.
Child Dentistry.


Branches Of Vasan Dental Care:

Vasan has established its dental unit in four main areas of Chennai city where people can easily reach to get the better treatment for their valuable tooth and precious smile. Best way to reach the Vasan dental care in Chennai is through local bus. The hospital is situated in common city area lot of buses and share autos are available to reach the place in a affordable rate.

Adyar:
Door No.624 & 625, L B Road,
SMS Building, Adyar,
Chennai - 600 020.
Phone : 044 - 44009011, 42990777

Chrompet:
No.407/7A, G S T Road,
Chrompet,
Chennai - 600 044.
Phone : 044 - 44009022

AnnaNagar:
No.J-13, 3rd Avenue,
Opp K-4 Police Station,
Annanagar East,
Chennai - 600 012
Phone : 044 - 44009000, 42991777
Fax : 044 - 42991770

Saidapet:
No.383, Anna Salai,
Saidapet,
Chennai - 600 015.
Phone : 044 - 44009033

Apart from Chennai city Vasan dental care unit has established their hospitals in the following districts of TamilNadu:

Coimbatore
Erode
Madurai
Salem
Tiruchi
Tirunelveli

Website:
You can visit and know more about Vasan dental care through this website.
www.vasandentalcare.in


Contact Details of Vasan Dental Care hospital

You can send or inquire in the following offices regarding your problem and give suggestions.

Registered Office:
Vasan Dental Hospitals Private Limited,
No. 15 - A, 1st cross, Thilai Nagar Main Road,
Trichy – 620 018, Tamil Nadu, India.
Phone : 0431 – 4089000
Fax : 0431 - 4023211

Chennai Office:
Vasan Dental Hospitals Private Limited,
No. 70, Dr. Radhakrishnan Salai,
"Lancor West Minster", IV Floor,
Mylapore, Chennai – 600 004,
Tamil Nadu, India.
Phone : 044 – 43400950
Fax : 044 – 43400998