Places to visit in Nungambakkam Chennai

This article provides a description on places to visit in Nungambakkam Chennai. There are also many interesting places near Nungambakkam which are described in this article.


Places to visit in Nungambakkam Chennai

Chennai the capital city of Tamil Nadu has a lot of areas with commercial importance. Nungambakkam is one such area which has a great number of organisations, firms, IT companies and of course a lot of places to hangout. Nungambakkam is almost the centre of the city and anybody going to Egmore, Kilpauk, Kodambakkam or any other place will certainly require going through Nungambakkam. Walking through the roads in Nungambakkam one can find number of hotels, cultural centres, coffee shops and shopping malls. There are lots of other advantages for the people staying in Nungambakkam areas as they have access to many hotels and restaurants.


Places of tourist attractions in Nungambakkam Chennai
Valluvar Kottam in Nungambakkam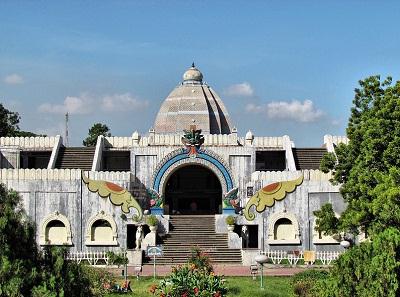 Valluvar Kottam is a place of historic importance located in Nungambakkam or Mambalam area in Chennai. This Valluvar Kottam was built at Chennai- Nungambakkam, as a memorial for the great poet Thiruvalluvar. It contains a large auditorium. It has lost its grace as a tourist spot but still there are a lot of exhibitions and events that happen at this wide space. These exhibitions make it a lively place to visit and also an attractive place for the people to visit. One can visit the Valluvar Kottam anytime except on Fridays and National holidays. This Valluvar Kottam is also in easy reach from Mambalam. People also refer this Valluvar Kottam to Mambalam area as it actually lies between Mambalam and Nungambakkam. This place has lots of advantage for people as it acts as a very good recreation spot for Chennai people. During the holiday time we can see a huge crowd visiting this place for spending their time with their family.


Christ the King Church in Nungambakkam

This church is present in the Loyola College-Chennai. This church is built with a Gothic style architecture. Christ the King Church has a wonderful significance over the people of Nungambakkam as it is of easy reach for the people. This Christ the King Church in Nungambakkam was built in the year 1931. The speciality of this church is the spire of length 157 feet. There are regular services attended by a small crowd. This can be considered to be one of the most interesting place in Nungambakkam area for the people to visit. This can also be considered as one of the most significant religious spot for the people to visit.


Places to eat in Nungambakkam Chennai

There are a lot of restaurants in Chennai-Nungambakkam. Here is a list of few familiar ones which always have a crowd enjoying.


Wangs Kitchen in Nungambakkam Chennai

Anybody would love to enjoy the variety in Chinese food. Wangs Kitchen is one such restaurant which provides Chinese food. Special varieties and good quality of Chinese foods are served in Wangs Kitchen in Chennai. It has a lot of branches throughout Chennai. At Nungambakkam it is located in the Village Road. With a reasonable cost of food Wangs kitchen stays one of the common places of hangout. We can also see lots of customers visiting Wangs Kitchen in Nungambakkam Chennai.


Mainland China in Nungambakkam Chennai

Mainland China is yet another Chinese restaurant in Nungambakkam located at Sterling Road. This restaurant also serves high quality Chinese foods to the people and also the restaurant provides various varieties of Chinese foods to the customers. They have about four branches and really stay "The best Chinese in town". The food course containing the soup, starters, main course and the desserts are delicious. Authentic Chinese taste in each dish is their quality in food. People who are wishing to have a different taste of Chinese foods can visit this restaurant.


KFC in Nungambakkam Chennai

One will not require a description of KFC as it is a common eat spot found all around Chennai. At Nungambakkam it is located at Nungambakkam High Road and serves chicken fries, crunchy shakes, burgers and much more. There are also many new branches of KFC opened in many places in Chennai.


ChicKing in Nungambakkam Chennai

ChicKing in Nungambakkam Chennai is a fast food based restaurant which is relatively meant for fries and is quite cheap when it comes to the cost. It is situated at Nungambakkam High Road. The menu holds chicken fries with variety in it, burgers and other such stuffs. ChicKing is a place to hang out with a group of friends in an economic way.


Veg nation in Nungambakkam Chennai

Veg nation is a purely vegetarian hotel that serves North Indian food. It is situated in Anna Salai, near Gemini flyover.
Apart from these restaurants there are a lot of coffee shops such as Mocha, Café Coffee Day, Barista and many more.


Places to shop near Nungambakkam Chennai

Ispahani is a Shopping mall with a lot of showrooms, restaurants and stores. One can spend a lot of time because of the variety of shops present. It is situated at Nungambakkam High Road.

Hong Kong plaza, Gee Gee plaza, Kaveri plaza are also shopping malls in Nungambakkam. There are also places near Nungambakkam to visit. Spencer plaza in Mount road is also in easy reach from Nungambakkam. Apart from this there are also many star hotels available in Nungambakkam for the travellers and tourists to stay. There are also many shopping malls and places nearby for shopping. We can find lots of youngsters having nice time in the shops near Nungambakkam.