Precautions to be taken while burning crackers on Deepavali festival

Everybody will be happy during Deepavali festival. First thing it comes to the mind when we think of Diwali is the lights of crackers. Children will be very anxious and active to burn the crackers. But, at the same time, elders should take precautionary measures. When you are burning crackers, there is a chance that sparkles of fire may fall into your eyes which may result in loss of eye sight. If you take sufficient precautionary steps, festival will share sweet memories to you. Read this articles to know


What is the need of precautions during Deepavali festival

Deepavali is a festival of joy. To express that joy, every body keeps lights on and infront of their houses, burn crackers and enjoy with their families, friends and relatives. But prefer to burn less crackers as they are causing a lots of sound and air pollution. Some special precautions are to be taken while burning crackers. Those precautions are for our safety and we have to follow them.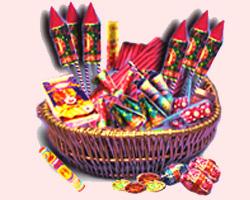 Precautions to be taken while burning crackers

1. When children are burning crackers, elders should always be by their side and should alert them and should give suggestions.
2. While burning crackers all the family members should wear loose cotton clothes.
3. Crackers are to be burnt in a safe places and every one should wear sandals while burning crackers.
4. You should keep a bucket of water and sand by the side of you while burning crackers.
5. People living in huts and wooden houses should wet their houses before burning crackers.
6. You should buy crackers only from licensed dealers.
7. For burning crackers , you should use a long agarbatti stick.
8. You should burn rockets only in places of large areas.
9. You should not burn crackers near Electric wires, Huts, petrol bunks.
10. You should throw the crackers which do not explode in water
11. After burning crackers, you should wash your hands and face neatly with soap and water
12. You should not burn crackers in hands, or by keeping them in bottles or boxes.
13. Unexploded crackers should not be taken again into hands or you should not blow air and again don't try to explode them.
14. You should not burn crackers near houses, in high traffic and places where more people will move.
15. Don't try to prepare crackers by yourself.


What should be done when you are injured

1. If your clothes catch fire when you are burning crackers, don't try to run. Cover that person with a bed sheet or a cloth.
2. If sparkles of fire fall into your eyes, then immediately consult an eye specialist.
3. Clean the injured place with cool water and should place a piece of Ice on the injury. Then do first aid and consult the concerned doctors.
4. If any fire accident happens, then immediately give information to the police and nearest fire station.


Precautions which are to be followed by People who sell crackers

People who sell crackers should also take some precations. They are

1. Crackers which are exploded even for the slight pressure are to be placed in a separate shelves.
2. You should take care that there should not be pressure on the boxes of crackers even though they are placed one above other.
3. You should not sell the crackers any where. You should only sell the crackers where there is less movement of people.
4. You should not decorate in side the shops with colorful lights.
5. Smoking is prohibited near these shops selling crackers.
6. You should always check the switch boards in the shops
7. You should always keep the fire estinguishers in the shop to use them in case of emergencies.


Suggestions for the Elders

1. You should place the crackers at a place where children cannot reach them.
2. You should take care that children will not burn crackers with out elders by their side.
3. You should not give the highly exploding crackers with great sound to the children.
4. You should take care that children should not keep the crackers in their pockets
If you follow all these precautions, you can celebrate a very happy safe deepavali. So follow these safety precautions. I wish you and your family Happy Diwali