Srisailam MahaSivaratri Brahmotsavam 11 days Pooja Schedule

Are you looking for to get the details of ongoing Srisailam Mahasivaratri Brahmotsavams? This article gives the complete information on special poojas and vahanaseveas performed during the 11 days of the festival. Read and go through the article then plan for visiting the shrine during this festive season


Srisailam, the alone Jyotirlinga in Andhrapradesh state has been bracing up for the Mahasivaratir Brahmotsavams which are going to start from March 3 and will conclude on March 13, lasts for 11 days. Srisailam temple is situated in the Nallamalla forest area in Kurnool district. Brahmotsavams at Srisailam temple will be held twice in a year, one during the Sankranthi festival and the other during the Mahasivaratri festival. More than 10 lakh devotees are expected to visit the shrine during the Mahasivratri festival. Special buses will fly from difference parts of Andhrapradesh and even devotees belonging to Karnataka state will be present in thousands during Mahasivratri.

Government officials belonging to endowment department have made good arrangements for devotees and priority is given in providing drinking water, sanitation and transportation facilities. Here below you can have the details of various poojas and vahanasevas performed during the Brahmotsavas period.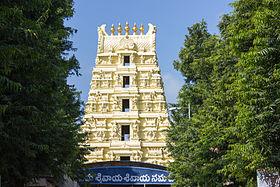 Image courtesy: Wikipedia

Mahasivratri Brahmotsavams at Srisailam temple


The Brahmotsams begins on March 3, 2013 with the Ankurarparna followed by Dwajarohana poojas in which the Dhwaja Patam marked with the Nandi symbol will be hoisted on the Dwajastambham of the temple.


In connection with the huge rush of devotees Sparsha Darshanam of Lord Shiva along with special poojas will be stopped from March6, 2013. Only general darshan will be available fro all devotees.


Every day the Special poojas will be held from March 4 to 12 apart from the regular Archanas, Rudrahomams, Chandiyagams, nithyajapams and Anustanams.


On March9, 2013 the eve of Mahasivratri the state government of Andhrapradesh will offer silk cloths to the Lord Shiva.


The following day Pagalankara seva and Lingobadbhavakaala rudrabhishekam will be performed din the Srisailam temple.


The Rathotsavam or the car festival will be held in the evening of next day under the witness of lakhs of Lord Siva devotees.


Along with the above poojas vahana sevas other important events of the celebrations will be held in which the Lord's processional deities will be taken around on various vahanas.


The Brahmotsavams will come to an end with the performing of Ekanthaseva on March 13,2013


Lakhs of devotees from all parts of the India will visit Srisailam temple during the eve of Mahasivratri Brahmotsavams and offers prayers to Lord Siva. Even though the temple officials have made all necessary arrangements devotees will face problems due to the heavy rush.