About Jabardasth- Katharnak Comedy Show

Jabardasth- Katharnak Comedy Show is a reality comedy show which is telecasting in ETV telugu channel. This show is a super hit and running sucessfully in entire Andhra pradesh. In this article I had mentioned all the details about Jabardasth- Katharnak Comedy Show.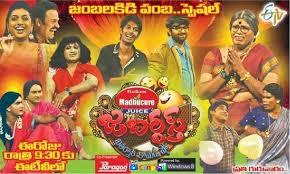 Concept

Jabardasth- Katharnak Comedy Show is a comedy based reality show. In this reality show there are 6 teans with one head in each team. They are 'Chamak Chandra' - comedian Chandra is the leader, 'Venu Wonders' - comedian Venu is the leader, 'Roller Raghu' - comedian Raghu is the leader, 'Dhana Dhan Dharaj' - comedian Dhanraj is the leader, 'Chalaki Chanti' - comedian Chanti is the leader and 'Rocket Raghava' - comedian Raghava is the leader. All these taems contains few supporting artists. There are two judges for this comedyy show, one is mega brother 'Nagababu' and second is actress 'Roja'. As per now the anchor for this show is 'Reshmi Gautam' ('Anasuya' was the old anchor). The concept of this show is to entertain the audience. Every week there will one concept given by the judges to all the six teams. These six teams have to perform the skit based on the given concept and who ever entertains more a prize of Rs. 10000 will be given to that team. This is the first round and the second round is 'Phataphat Fun'. The second round is a spontaneous round, where the team leaders should say any joke and Rs. 5000 will be given to the leader with best joke.


Timings

Jabardasth- Katharnak Comedy Show will be telecasted in ETV for once in a week. On every Thursday at 9:30 P.M this show will be telecasted in ETV. This show lasts for one hour i.e., from 9:30 P.M to 10:30 P.M. And it is retelecasted on sunday morning at 10;30 A.M.


Performance

All the teams are performing very well. Anasuya's (old anchor) anchoring is very good sweet and cute expressions. The two judges are giving points from their heart and enjoying this show very well. Every weeek one or the other team is performing very well. According to me in the last few weeks comedian chandra's performance is nice. As Dhanraj, venu are experienced comdey stars than other team leaders, there performnce will be very consistant in every week.


Talk about this show

There is a huge response for this show. I think this show is one of the best shows telecasted by ETV management. For entertainment purpose this is the best show. By watching this show we can enjoy a lot. Eanch and every one without any age difference is watching this show. Many people are waiting for this show to be telecasted twice a week so that they can get rekief for one more day.


Plus and Minus points

This show hhas lot of puls points starting from anchor to judges. All the team leaders are well know to audience of Andhra pradesh for their best comedy punches in movies and stage shows. Timingof their comedy punches is the main pls point for this show. Actually there is no minus points about this show, but some people are saying that there is lot of vulgarity in dialouges. If this is reduced then there is no doubt in saying "Jabardasth- Katharnak Comedy Show" is best show which is entertaining the audience the most in present shows.

My rating for this show is **** out of ***** stars