Mahamaya Temple in Dhubri District

Mahaya temple is situated in Dhubri district of Assam. It is one of the oldest temples of the state. It is a shakti peeth temple. Every year thousands of devotees from all parts of the state visit this temple.This article will provide some important information about the temple.


Mahamaya Temple or Mahamaya Dham is situated at 30 kilometers east of Dhubri town in Dhubri district of the state of Assam. It is about 10 kilometers away from Bilasipara one of the popular place of lower Assam. It is a Shakti temple which is regarded as second Kamakhya temple of Guwahati. It is an important hindu pilgrim place for the people of lower Assam. Every year thousands of devotees visit this temple to pray Devi Mahamaya. It is believed that traditionally the goddess Mahamaya was worshipped by the local people of Parvatjowar. These local people like Kacharies, Koches and Naths regularly did prayers and pujas in the temple. The temple was also the main deity of the Zamindar of Parvatjowar. After some time the goddess received wide acceptance from not only the local people but also from the neighbouring areas and now a days, all Hindus of western Assam visit this temple to worship goddess Mahamaya. In this temple like all other Shakti temple has a 400 years old tradition of animal sacrifice which is performed at the time of Durga Puja.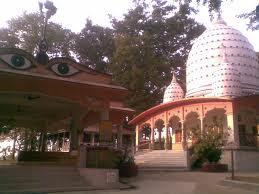 There is another temple called Mahamaya Snaanghat Temple, which is situated a few kilometers away from the Mahamaya temple. It is believed that in this place goddess Mahamaya used to take bath and thus the temple is known as Mahamaya Snaanghat. Every year a Shakti Yagya is performed in the month of January by the temple priests.


How to reach Mahamaya temple

By Air: The nearest airport to reach the temple is Borjhar Airport which is about 100 kilometers away.
By Bus: The very easy and comfortable journey to reach the temple is by bus or other private vehicle. Regular bus service is available from Guwahati city. Mostly people prefer private vehicle to visit the temple.