Dowry System in Maharashtra, India

Dowry System is one of the evil of the society. It has caused many suicides of young brides. Even then it still exist in the society. Read more about Dowry System in Maharashtra, India.


Dowry System in Maharashtra, India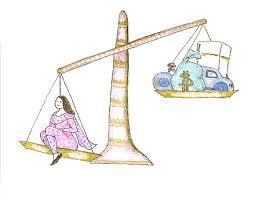 Dowry is a social evil prevalent in India. It is found among the followers of all religions in one form or the other. Dowry represents property or money brought by a bride to her husband it may be in the form of money, vehicles, articles etc. In ancient days there was another system that is purchasing brides by paying 'Kanya Shulk'. The evil has disappeared. In its place the dowry system has gradually crept in causing distress to thousands of parents. Dowry system has, of late, has become a major cause for suicides among young women.

Dowry system does not much worry the rich, who can pay as much as the bridegroom's party demands. There is also no difficulty for the poorer section of the society as there is nothing with them to give or take. The problem is really serious for those belonging to the middle class. Every parent wants his daughter to be given in marriage to a husband who is well educated, decent young man with a good job and a regular income. There are only few such eligible bridegrooms. Hence the compition starts. It is like bidding at an auction and the person who bids high gets a son-in-law. Apart from this there are other reasons also which force parents to support dowry. Intercaste marriages are not permitted. The girls have no freedom to select their husbands. Paying dowry is also considered as the status of symbol in society by some families. The young bridegrooms also prefer dowry as dowry implies free money or property. This is the first part of the evil of giving and taking dowry.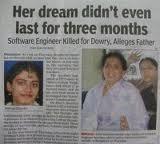 It does not end there. It is like a tiger sucking human blood. Once the tiger tastes human blood, it wants to suck more and more as often as possible. So begins the teasing of the young bride by her in-laws and husband for getting more and more form her mother's house, more often resulting in suicides. Traditions and customs in India have made the woman to be a servant of man all through her life. She has to obey and serve her family first, then her husband and later her children. Only that lady who suffers for the sake of her husband and bears all torture is considered as a chaste lady. Hence women in India are not able to assert their equality even though it is guaranteed by the Constitution. When a lady leaves her husband and comes back to her parent's house, she is not welcomed there and the society does not respect her. All these reasons contribute to the promotion of dowry payment or suicide in the case of failure.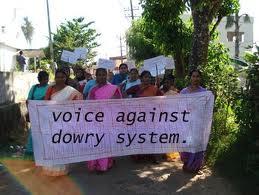 The system perhaps has some valid arguments before 1985, when girls were not eligible for equal rights with boys for parental property. Now that a girl is also given equal right to her parental property, there is no reason for payment of dowry. However custom and practice take precedence before law and the evil continues. Separate courts have been established to try and decide cases of harassment of women. But very few dares to approach the court or seek a divorce, which is also permissible under law. Education alone does not appear to be the solution as it is the educated young men who are more responsible for this evil then the uneducated.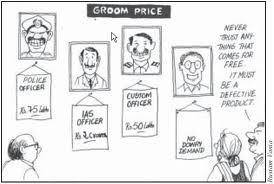 The evil will continue as long as the money enjoys its power as a commodity which can command anything in this world. It is not possible to make everyone rich and all cannot also become poor. The only solution is the social awakening. Of late, organizations started by women help in checking the practice of dowry. There is need of public awakening against this evil. Women are to play a vital role in it. If only young brides and bridegrooms refuse to marry where dowry is involved, this social evil will disappear sooner or later.