How To Check MSBTE 2014 Results

Are you looking for for Winter 2013 examination of Maharashtra State Board of Technical Education? Read this article to know how to check MSBTE 2014 result online. This article also shows about where to exactly check the and how to fill up the form. And if you face any issues in your like spelling mistakes or wrong marks, the article also guides by telling step by step procedure about applying for re-verification of MSBTE 2014 results.


The time for MSBTE 2014 Results
Maharashtra Board of Technical Education is a very important board of education in Maharashtra. The Maharashtra Board of Technical Education is an organizational institution in itself and offers education in the technical domain. It offers online courses as well as distance education facilities. The MSBTE Headquarters are located at Mumbai in Maharashtra. The MSBTE declared its results today (15/01/2014) at 7 PM IST for the Winter 2013 Examinations for all of its courses which are run full time, part time, distance courses and online courses.


Where to check Winter 2013 MSBTE Results?
MSBTE have put up the Winter 2013 results at official website. Here are the steps to quickly check Winter 2013 MSBTE Results.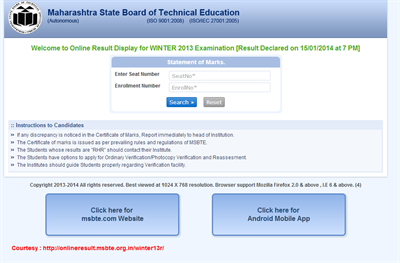 For Results, check URL - http://onlineresult.msbte.org.in/winter13r which is the official website of MSBTE for Winter 2013 Results
You will now see 2 boxes:
Box for Seat Number
Box for Enrollment number
Put your Seat Number in the above box and put Enrollment Number in the box below
Click on Search. If you think that the details you have put are not correct, then click on Reset.
The results are in front of you.
Print your Certificate of Marks from the website
Instructions for Winter 2013 examination candidates
The Certificate of Marks that you print from the website is created and issued according to the rules and regulations of MSBTE
After searching for your results, please check imtely if there are any mistakes and discrepancies.
If you see any problems in your Certificate of Marks, report the discrepancy to your head of Institution.
If your certificate has "RHR" mentioned on it then you should contact your Institute
If you see any mistake in your marks or if you feel that your marks must be reverified, then you can apply for:

Ordinary Verification
Photo Verification
Photocopy Verification

and
Reassessment of marks
Check MSBTE 2014 Results through your Android Smartphone or Tab
MSBTE now has a App which you can use to check your results from a Android OS enabled Smartphone, Tab or Laptop. check url - https://play.google.com/store/search?q=4pillars+infotech&c=apps where one can download your Google MSBTE App and view your Winter 2013 Examination Results.

More about Maharashtra State Board of Technical Education
MSBTE is the main board of Technical Education in the state of Maharashtra and is recognised by the Government of Maharashtra. The board provides education under
Diploma
Post Diploma
Advanced Diploma
level programmes. MSBTE also arranges development and programmes to facilitate content up training, trainings in soft skills, industrial training and related skiils. The management of all such s is done by MSBTE and is responsible for admission procedures, smooth procedures of result declaration and felicitating state rank holders, affiliating grant for institutions, developing lab manuals, undertaking controlled academic and autonomic . MSBTE also conducts many other programmes which in totality help towards the benefits of people.